Newsletter
The veterinarians and staff at the Island Trees Veterinary Hospital are pleased to provide you with an online newsletter. This fun and fact-filled newsletter is updated on a regular basis.
Included in the newsletter are articles pertaining to pet care, information on our animal hospital, as well as news on the latest trends and discoveries in veterinary medicine.
Please enjoy the newsletter!
Current Newsletter Topics
Holiday Pet Tip: No Sweets For Your Sweet Pet
For many people, overindulging in holiday goodies may result in a few extra pounds; however, the consequences for our animal companions are much greater if they accidentally ingest cookies, candy or baked goods containing chocolate. In any form ranging from one-ounce baking squares to brownies, chocolate contains theobromine and caffeine, both of which can cause stimulation of the central nervous system, an increase in heart rate and tremors. Clinical symptoms such as vomiting, diarrhea, seizures, hyperactivity and increased thirst. Urination and heart rate can be seen with the ingestion of as little as 1/4 ounce of baking chocolate by a 10-pound dog.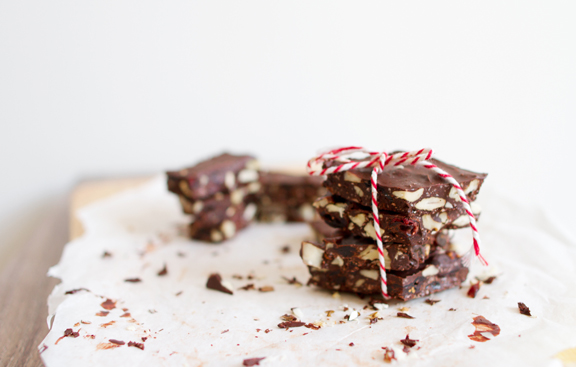 Veterinary poison and emergency center across the country seem to receive more calls involving chocolate toxicosis during Halloween, Thanksgiving, Christmas, Valentine's Day and Easter. During one Thanksgiving holiday, an 18-pound cocker spaniel consumed an 18-ounce box of milk chocolate truffles. By the time the owners brought the dog to the veterinary emergency center, she had already vomited several times and was drinking large amounts of water. The emergency clinician worked in conjunction with the dog's veterinarian to provide emergency treatment, which included activated charcoal, intravenous fluids and medication for her elevated heart rate. She'd recovered by the next morning, but spent the day in doggie day care to make sure she didn't have further problems.
Although chocolate toxicosis is more common in dogs who have been known to eat candy and trays of brownies and fudge accidentally left out, it can be a potential problem with any species. Take care this holiday season and keep candy out of your pets' reach - and don't let them in the kitchen unsupervised when you're baking. If you suspect your pet has eaten chocolate, call your veterinarian immediately.
Keeping Your Dog Anxiety Free On New Year's Eve
Celebrating the new year is an exciting time for many people. Unfortunately, your dog might not share the same enthusiasm you do. There are numerous ways your dog might be put on edge this December 31. Whether it's loud neighbors celebrating loudly or fireworks exploding overhead, as a dog owner you must be conscious of your dog's fears.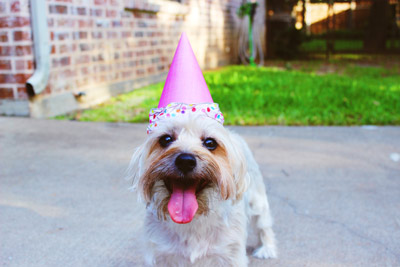 Fortunately, there are ways to make your dog feel more safe as we move into the new year. Here are just a few pointers to keep your dog happy and healthy into the new year and beyond.
• Give your dog plenty of exercise before the celebrations begin. Take him or her to the dog park, go on a long walk or jog, play fetch until your dog's tongue is down to the floor. The point is that the more you tire them out during the day, the likelier they are to sleep through a noisy night.
• Create a relaxing environment for them. Lavender oil (Lavendula augustifolia or Lavendula officinalis) can be used either on the skin or by letting your dog smell it, and has been found to reduce anxiety. It's also a good idea to play calming music, like classical or light jazz, that's turned up just high enough to wash out external noise.
• Ask your veterinarian about medications that may help. Your veterinarian may be able to prescribe your dog anti-anxiety medication that will help calm them throughout the night. These same types of medications can be used for other anxiety-producing scenarios like thunderstorms or car rides.
Above all, remember to have a fun and safe New Year's Eve for both yourself and your dog!
November is National Pet Diabetes Month
November is National Pet Diabetes Month, but with more than 50 percent of the nation's cats and dogs overweight or obese, raising awareness of the common endocrine disease has been extended to pets – rather than just their human caretakers. It is estimated that one in every 200 cats may be affected by diabetes, being the most common endocrine condition found in felines. The numbers for dogs are similar and only expected to increase.
Diabetes results when a pet's body doesn't produce enough insulin (Type I DM) or doesn't process it properly (Type II DM). When your pet eats, carbohydrates found in his or her food are converted into simple sugars, one of which is glucose. Glucose is then absorbed into the bloodstream through the intestines and travels to cells throughout the body. Inside cells, insulin typically helps turn the glucose into fuel. However, when there isn't enough insulin, glucose can't even enter the cells to be converted into energy and instead just builds up in the bloodstream.
Symptoms of Diabetes in Cats and Dogs:

• Lethargy
• Excessive thirst
• Frequent urination
• Always hungry, yet maintains or loses weight
• Thinning, dry and dull coats in cats
• Cloudy eyes in dogs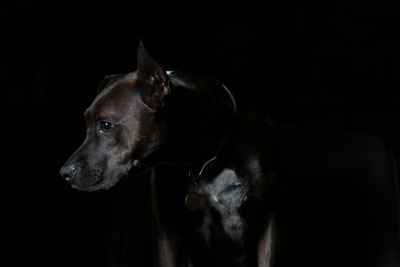 At-risk pets include:

• Those with genetic predispositions
• Those with other insulin-related disorders
• Those who are obese and/or physically inactive
• Dogs who are between 4- to 14-years-old
• Unspayed/intact female dogs are twice as likely to suffer from diabetes
• Dog breeds with greater risk for development: Cocker spaniels, dachshunds, Doberman Pinschers, German shepherds, golden retrievers, Labradors, Pomeranians, terriers and Toy Poodles

Although diabetes can't be cured, it can be managed so that symptoms are reduced or eliminated entirely. Your veterinarian will decide which treatment options are best for your pet. Often, changes in diet and lifestyle, combined with or without daily insulin injections, can help your pet live a happy, healthy, active life.
If you've noticed any of the above symptoms in your pet and suspect he or she may have diabetes, contact your veterinarian today. Veterinarians are the only professionals who can accurately diagnose your pet and provide proper health management. Diabetes can affect a pet differently over time, even if your pet has experienced a long period of stability. The sooner your pet is diagnosed, the better, and the less likely you'll incur the cost of an expensive emergency visit for diabetic complications.
How To Keep Your Pet Safe This Holiday Season
Holiday season adornments are attractive to all creatures. The ornaments, foods, gifts, wrappings, ribbons, lights and plants are all curiosities for pets. Pets investigate new items by sniffing, tossing, chasing and finally by tasting. A few precautions are necessary to avoid the holiday crowds at the veterinary hospital.
Behold! Everything Looks Delicious
The most common problems this time of year are stomach or intestinal disturbances caused by pets eating the holiday feast or other novelties. Scraps from the table can cause gastrointestinal upset and even predispose pets to life-threatening pancreatitis. Bones can get stuck in the mouth or perforate the intestines and should be avoided. Chocolate is poisonous to cats, dogs and birds. Plastic wrap and aluminum foil (coated with good-tasting juices) are enticing but can cause intestinal damage and even blockage if eaten by your pet.
Other sweet treats like gum and hard candies can also make your pet ill. Sugar-free candies and gum are made with xylitol, a sugar substitute that can cause a drop in blood sugar, depression, loss of coordination and seizures in your pet. Xylitol is also linked to liver failure in dogs. Be sure to keep all candies, chocolate and other sweets out of your pet's reach. If you believe your pet may have ingested chocolate or candy, call your veterinarian immediately.
Be sure to properly dispose of leftovers and wrappers. Feed pets their usual diet. Treats formulated similarly to the pet's regular diet are generally healthy and safe. Also keep in mind while cooking that pets may not know about hot stoves or to stay out from underfoot. Keep pets away from the stove so they don't get burned or have hot foods spilled on them.
Holiday Plants and Decorations
Several decorative plants are poisonous. Mistletoe and holly can cause stomach upset with vomiting and diarrhea. The berries of these plants are attractive, easily swallowed and potentially fatal if consumed. Poinsettias, like the leaves of most any plant, can also cause stomach upset. Use artificial mistletoe and holly, and keep other plants out of your pet's reach.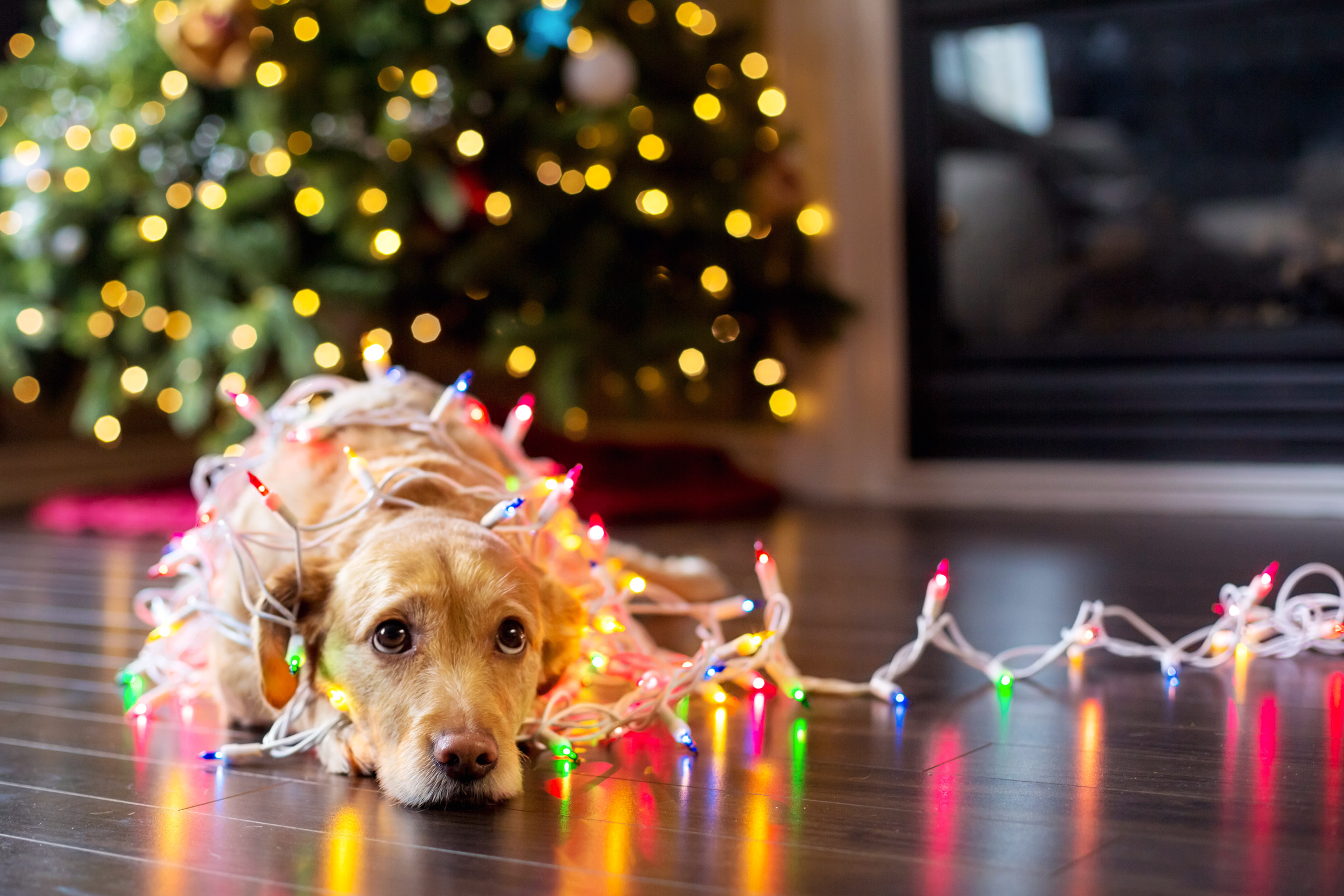 Make sure Christmas trees are secured so pets can't pull them over. Omit preservatives from the tree-stand water and cover the tree well so pets don't drink from it. Don't spray fake snow on the tree unless it is labeled safe for pet consumption. Angel hair is spun glass and is irritating to both the inside and outside of your pet. Even glass ornaments and ornament hooks have been chewed and swallowed. These objects can cause problems from stomach upset to damaged intestines. Low-hanging ornaments are a real temptation, as are tinsel and electric lights. Decorative lights and electrical wiring can cause shock or burns when chewed, so remember to unplug holiday lights when pets are left unattended.
The Hustle and Bustle of Goings-On
Holidays have lots of activity. Be sure doors are not left open as guests come and go. Indoor pets inadvertently left outside could be injured by frostbite, cars or other animals. Ice-melting chemicals and salt on sidewalks and roads can severely burn foot pads and should be washed off right away. Also, watch that guests don't leave interesting objects such as chocolate, ribbons, stocking stuffers or other illicit treats, within your pet's reach.
If your pet does get sick, consult your veterinarian before giving any medications. Many of the over-the-counter drugs such as acetaminophen (Tylenol, Excedrin and ibuprofin), Advil and Motrin, are toxic for animals even though they are safe for us. Don't wait to see if your pet gets better. If your pet is acting sick, consult your veterinarian immediately.
Infographic: Pet Holiday Hazards
The holidays can mean exciting smells, sights and tastes for your curious pet -- and more ways he or she can get into trouble. Please take a look at the infographic below outlining the most serious dangers. Take the necessary precautions to keep the holidays happy and healthy for everyone in your home.

Click on the graphic below and print it out.
Keep it handy during the holiday and give copies to your friends and family.