Tuesday, August 16th, 2016
The loss of a cherished animal companion can cause extreme sadness, intense guilt, and a whirlwind of other emotions. Often, you will seek answers to questions that may not be black and white. Below, you will find some of the most common questions pet owners ask of themselves while grieving the death of a pet.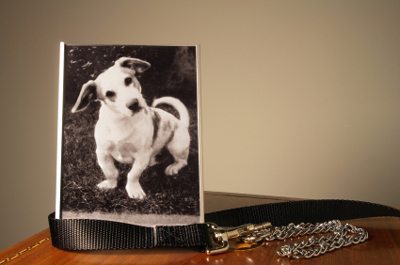 1. When is the right time to euthanize a pet?
Your veterinarian will make a recommendation based on your pet's physical condition and long-term outlook. You, however, have the unique insight into your pet's daily quality of life. By evaluating your pet's health honestly, you will be able to work with your veterinarian to come to the most humane decision for your individual pet. The decision to euthanize will never be easy, but is often the final act of love you can provide a pet who is suffering.
---
2. Should I stay with my pet during euthanasia?
This is a completely personal decision that you will need to make. Many pet owners want to be there for their pets and witness it so they can see it happened peacefully and without pain. This can be traumatic, but not witnessing the death may make it harder to accept that the pet is really gone. Also, you want to gauge your own emotional strength- if you have an uncontrolled outpouring of emotions before your pet passes, it may be upsetting for him or her to witness. Euthanasia can sometimes be performed at home. Discuss your options with your veterinarian.
---
3. I've heard of the stages of grief, but what are they?
The grieving process is often illustrated by five stages: denial, anger, bargaining, depression and acceptance. Typically, you will move through them progressively, but everyone grieves in different ways. You'll know you're beginning to heal when you're thinking more rationally and more often of the good times you shared with your pet rather than of the "what-ifs" and the guilt.
---
4. How can I cope with my feelings?
Having someone to share your feelings with will help you not have to keep them locked up inside. Don't deny how you feel or simply put on a brave face. You must acknowledge your feelings to work through them. Some of your thoughts may be misguided and as time passes you will be able to realize this. Do whatever works best for you as a means of emotional expression – go somewhere secluded and scream, cry, talk, write, paint, create a memorial, or find a new activity to fill the time you previously would've spent with your pet.
---
5. Should I just get over it?
It is common to hear the phrase "it was just a pet" when others find your emotions to be too extreme or too long-lasting. These people aren't aware that the death of a pet creates the same emotional response as the loss of a human friend or family member. Grieving is natural and thousands of pet owners can attest to that.
---
6. Who can I talk to?
Share your feelings with family or friends who have pets. Reminisce about your pet. Or, speak with Dr. Gottlieb or Dr. Caren at Island Trees Veterinary Hospital to identify pet loss counselors or support groups. Hospitals and churches also often have resources for grief support.
---
7. Should I do burial, cremation, or disposal?
This is another decision which should be based on your personal wishes. It can be easiest to have a clinic dispose of your pet's remains (often for a fee), but many prefer something more formal. Based on your living situation, a burial at home may be a good choice. However, both burial and cremation depend on your personal or religious values, finances, and future plans. Your veterinarian or an online search will provide options available in your area.
---
8. What should I tell my children?
Be honest with your children and provide as much information as they seek in a way that matches their age and maturity level. Saying their pet was "put to sleep" is not advised, as they may begin to fear bedtime. Allow your children to grieve in their own ways and be open about your own emotions around them rather than teaching them to keep it all inside.
---
9. Will my other pets get depressed?
Your other pets may notice a change in the household. Based on their relationship, some may search for their companion, eat less, and seem to be grieving. Giving your surviving pets extra love and attention during this time will be beneficial not only to them, but to you as well.
---
10. Should I get a new pet right away?
Generally, it is best to allow yourself time to work through your grief and loss before introducing a new pet into your home and life. A new pet is a unique individual, not a replacement. Try to avoid getting one that looks the same or naming it the same as your deceased pet and don't expect it to behave exactly the same either. Getting a new pet too soon may lead to resentment or feelings of disloyalty because you still want your old pet back.
The entire staff at Island Trees Veterinary Hospital is here to help you during this extremely difficult time. If you have any questions, please stop by our office or give us a call to set up a private consultation.
Monday, July 18th, 2016
Concerned pet owners may have come across a Facebook post warning against giving dogs ice water. The post claims that giving dogs ice water can cause bloat, which can lead to a life-threatening condition called gastric dilation and volvulus (GDV), or more commonly called "bloat." It's often accompanied by a seemingly true story of a well-meaning pet owner trying to keep their dog cool on a hot day only to find they must rush their pet to the emergency vet.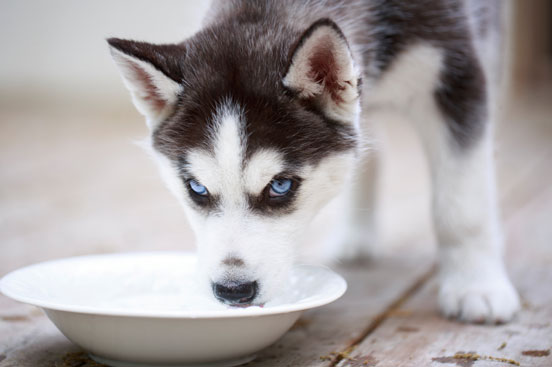 It sounds scary, but it's absolutely false. Veterinarians across the country have been addressing this myth for years, but the misinformation continues to spread thanks to social media. Frigid gastric 'cramping' is a falsehood similar to those that inform you that your hair will grow back coarser if you shave it (myth), or that you shouldn't go swimming for 30 minutes after eating lest you drown in a fit of cramps (myth).
Bloat can be caused when your dog drinks too much too quickly, but the temperature of the water has nothing to do with this. In fact, putting ice cubes in your dog's water can sometimes slow your dog's water consumption, keeping the risk of bloat at bay.
If you have a large dog and are concerned about bloat, we recommend feeding a few small meals per day instead of one large meal and avoid exercising for an hour or so after eating. But if your pup is thirsty on a hot day, there's nothing dangerous about helping them cool off with ice water.
Bloat or gastric torsion is a disease n which the dog's stomach dilates and then rotates, or twists, around its axis. Bloat is primarily a disease of large and giant-breed dogs. Deep-chested breeds such as great Danes, German shepherds and standard poodles are most commonly affected.
For additional information about bloat, please call Island Trees Veterinary Hospital.
Friday, July 8th, 2016
Heatstroke is a serious condition that can lead to rapid death. Symptoms of heatstroke must be recognized and treatment must be initiated rapidly.
Early symptoms of heatstroke include:
— labored breathing
— warm dry skin
— an anxious attitude
— profuse salivation.
As the condition progresses, the animal:
— develops a glazed look
— becomes unresponsive to external stimulation.
Looking inside the mouth, the tongue and gums have a bright red appearance. The heartbeat of the animal increases and if left untreated, he or she becomes weak and eventually collapses.
Immediate emergency care is required for an animal suffering from heatstroke. The animal should be placed in a bathtub filled with lukewarm water. If a tub is not available, the animal should wrapped in lukewarm damp towels (If towels are not immediately available, the pet should be hosed down). The water used to cool down the animal should be lukewarm, not cold. If the pet is responsive, small amounts of cool water should be offered to drink.
Heatstroke is an emergency. Call Island Trees Veterinary Hospital as soon as you detect any symptoms. Your pet should be seen by a veterinarian immediately.
Thursday, July 7th, 2016
Summer is a fun and exciting time of year. During the warm months, pets are less confined to the interior of the house and spend much more time outdoors. Special precautions must be taken to ensure that Rover and Kitty remain healthy and cool during the hot summer days.
Sweating It Out
Sweating is an efficient mechanism for cooling down an overheated body. The human body has millions of sweat glands located in the skin. When the body temperature is elevated, these glands secrete moisture (sweat) on the surface of the skin. Evaporation of this sweat is responsible for cooling down an overheated body.
Dogs and cats, unlike humans, do not cool off by sweating. Instead, they cool themselves by panting. Panting is the process of breathing in through the nose and breathing out through the mouth. As the air passes through the nose and mouth, some evaporation occurs. Panting is not as efficient as sweating, therefore pets have a difficult time coping with the summer heat.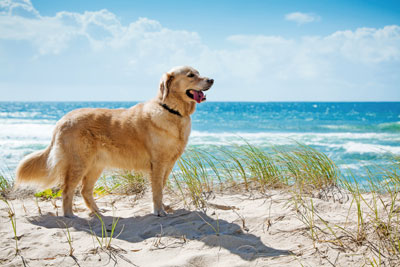 Heatstroke is a serious problem and is a major cause of accidental death in dogs. A pet left in a hot car or an animal that has no shade or water can die from heatstroke in just a short period of time. When you travel with your pet, or if he's left at home, plenty of cool, fresh, drinking water should be available at all times.
Certain animals are particularly sensitive to heatstroke. These include:

Young, old and overweight animals
Animals with shortened muzzles (Bulldogs, Pugs, Boxers, Pekinese, Lhasa Apsos, Shih Tzu, Boston Terriers, and Persian cats)
Animals with heart and / or respiratory problems
Animals with thick, heavy coats (particularly the northern or cold-breed animals)
Keeping Cool
During the hot summer months, pets should be kept cool. An outdoor doghouse or kennel should be well ventilated and located in the shade. Allowing a dog access to a child's shallow wading pool, filled with an appropriate amount of clean water, is an excellent method for keeping Rover cool during the heat of the day.
Overexertion and intense exercise should be avoided during the middle part of the day. Long walks and heavy exercise should be reserved for the early morning and late afternoon. When taking Rover for a walk, remember that he does not wear shoes. Dogs' paws are sensitive and burn easily on hot blacktop. Blacktop and other hot surfaces should be avoided.
Car Dangers
On warm sunny days, a pet should never be left unattended in an enclosed vehicle. If your pet absolutely must remain in the vehicle, the following precautions are recommended:

Completely open all windows and vents
The pet should remain in a well-ventilated cage or kennel
The vehicle should be parked in a shaded area, out of direct sunlight
Fresh water should be available
Return to the vehicle every 10-15 minutes to check up on him (her)
On a warm sunny day, the temperature inside a vehicle can reach 150 degrees within a period of 10-15 minutes. Trapped inside a hot vehicle, a pet can suffer from heatstroke and die very quickly.
If you have concerns about your pet this summer, please call Island Trees Veterinary Hospital for additional information.
Friday, June 17th, 2016
Diabetes is a condition caused by a relative resistance to or deficiency of insulin which results in elevated blood glucose levels and glucose in the urine. Diabetes mellitus is most common in older cats; however, obese cats are at an increased risk of developing this condition. Evidence has shown that genetics may play a role in the development of diabetes in cats. In particular, the Burmese breed has been identified as being predisposed to diabetes, and analysis of pedigrees has suggested that this is an inherited trait.
Insulin is produced by the pancreas and is released into the bloodstream where it travels to all the tissues of the body. Its main role is to enable cells to take up glucose (sugar) which is needed as an energy source. In diabetes, there is a relative or absolute deficiency of insulin. An absolute insulin deficiency may arise as a direct failure of the pancreas to produce this hormone. In most diabetic cats, there is both an absolute insulin deficiency and a situation whereby cells of the body fail to respond effectively to the insulin produced. This results in a decreased amount of glucose taken up by the cells and an increase of glucose in the blood (called hyperglycemia). As the cells are starved of glucose, the body begins to break down stored fats and proteins for sources of energy. This process results in weight loss and the accumulation of toxic waste products, which can cause a diabetic crisis known as ketoacidosis.
The symptoms of diabetes may be severe or mild. Due to the increased amount of glucose in the blood, it is excreted into the urine. Glucose that is passed into the urine takes water with it, so an increased volume of urine is produced. To compensate for the water lost into the urine, diabetic cats develop an increased thirst. Weight loss and an increased appetite are also frequently seen.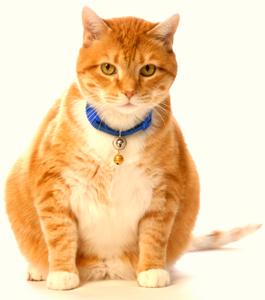 The cat owner often reports one or several of the following symptoms:
• Weight loss
• Increased appetite
• Increased urination
• Increased water consumption
These signs are not always present or may pass unnoticed. If a cat spends most of his or her time outdoors, the increased thirst and increased urination may not be noticed by the owner.
There are other clinical signs that may be observed. These include:
• Straining to pass urine or passing bloody urine (associated with a urinary tract infection)
• Poor coat
• Cataracts and retinal abnormalities causing vision problems
• Weakness in hind legs or dropped hocks
Some cats develop ketoacidosis, a complication in uncontrolled diabetes. In this situation, the cat may become extremely depressed, with symptoms such as vomiting, diarrhea, complete loss of appetite, dehydration, collapse and coma. If any of these signs are seen in a diabetic cat, it is an emergency condition and he or she should be taken to a veterinary hospital immediately.
Diabetes mellitus is usually a treatable condition, but requires considerable dedication and commitment from the cat's owners. Owners of a diabetic cat need to be aware that a strict routine must be followed. The timing of insulin injections is important; however, they can be altered to suit the lifestyle of the owner. Once the insulin injections have begun, they need to be given at regular intervals. Knowledge on correct insulin storage, handling and administration is also required. The dose of insulin given should never be changed without consulting your veterinarian. One of the most common reasons for poor stabilization at home is problems with insulin storage and/or administration.
If you feel that your is showing symptoms of diabetes, it is best to have him or her examined by a veterinarian at Island Trees Veterinary Hospital as soon as possible. The earlier that diabetes is diagnosed and brought under control, the easier it is to manage.
Tuesday, June 14th, 2016
Summer is storm season, and Spot is going wild. Maybe he's pacing, hiding under the bed, shaking, panting, or simply craves your attention – whatever it may be, he's scared and needs your help. Many pet owners think that their dogs will grow out of their phobias, and therefore don't bother to indulge in Spot's tantrums. Yet oftentimes it will only get worse with time if nothing is done to help curb your dog's fears.
There are various theories about why dogs are particularly affected by storms. Some say that low-frequency waves and even electric shocks effect dogs immediately preceding the storm, which humans cannot even hear or feel. This builds anxiety, and by the time the storm has hit, your dog has gone full-fledge manic. But really, can you blame him?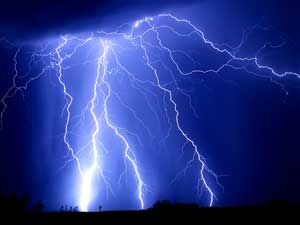 Here are a few tips to help alleviate your dog's storm phobia:
Calm him down like you would your own child. Speak to your dog in a soft and soothing voice in order to assure him that there is no need for stress and fear. Never yell at him when he reacts to the storm, this will only increase his fear – and with it, his barking. This does not, however, mean you should over-coddle him. This may only worsen his phobia.
Reward calm behavior. Try to train your dog to settle down on command and learn that becoming calm is a behavior that – along with sit and stay – will be rewarded.
Exercise and tire out your dog before a storm is scheduled to hit. This way he'll have less energy to focus on stress.
Create a safe room for your dog to go during the storm. This can be a carpeted room without windows, a basement, or other place where you can play calming music without hearing the outside commotion. However, don't confine your dog to a small space, especially a crate, as this will only build anxiety.
Play a CD with light storm sounds in order to better acclimate your dog throughout the year. You can supply him with treats while he remains calm through the sounds, and gradually increase the volume over time.
Consider an anti-anxiety drug. If you think your dog could benefit from an anti-anxiety prescription medication – or if you have any other concerns, don't hesitate to call Island Trees Veterinary Hospital. Our veterinarians and medical staff are available to help you with all your pet's needs.
Although there's no easy solution, a few minor adjustments and a bit of patience will go a long way towards helping your Fido weather the storm.
Tuesday, June 14th, 2016
Pedigreed cats have several hereditary disorders which require screening and counseling. Thirty-eight percent of all Persian and Himalayan cats have an autosomal dominant polycystic kidney disease. Many of these cats develop kidney failure, while some only develop isolated cysts that do not impair normal kidney function. A genetic test for this disorder is now available.
The Maine Coon cat breed has a dominantly inherited hypertrophic cardiomyopathy, as well as a high incidence of hip dysplasia. Both disorders are commonly identified in this breed. Renal amyloidosis is a hereditary disorder found in the Abyssinian breed.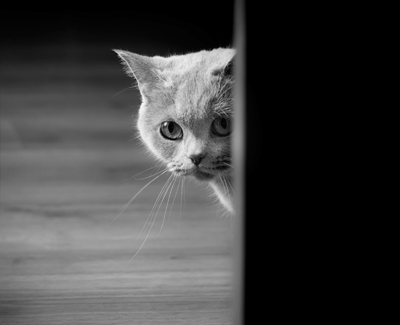 Other frequently encountered genetic disorders in dogs and cats include: deafness, porto-systemic shunts, various types of bladder stones, elbow dysplasia, patella luxation, and Legg-Perthes disease. There are no breeding recommendations that fit every situation. There are, however, guidelines to preserve breeding lines and genetic diversity while reducing the risk of producing carrier or affected individuals.
Protocols for genetic counseling and breeding management of genetic disorders can be based on the known mode of inheritance and the availability of genetic tests. Contact your veterinarian at Island Trees Veterinary Hospital for recommendations.
Wednesday, April 27th, 2016
Scratch the Grass on the Lawn After Pooping?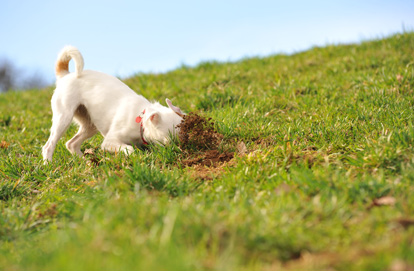 Is your lawn a mess because your dog scratches it after every time he or she poops? This may be annoying to those of us who spend our weekends taking care of the lawn, but it's normal behavior for Rover.
In the wild, canines such as wolves, dingoes and foxes are not only doing this to covering up the mess, it is also a way to mark their territory. All canines have glands in their feet that secrete hormones, and a couple of backward scratches into the earth release the chemicals.
If you're upset that your dog is destroying your lawn, the solution is to take him for a walk several times a day.
Roll Around in Smelly Stuff?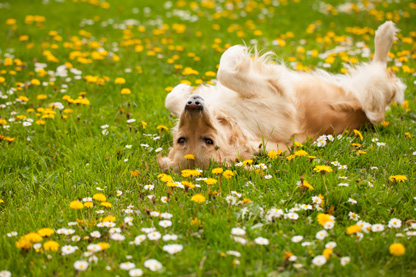 While we aren't 100% sure why dogs like to roll in stinky stuff, many pet behaviorists believe this is an attempt to show off their most "prized possessions" to their owners. For a dog, wearing smelly stuff is like wearing the best designer-label scent.
People like smells that are fresh, floral and fragrant while dogs prefer dirty, dead and disgusting aromas.
Forget trying to prevent your dog from rolling around in the smelliest things imaginable. For you, it's awful; for dogs, it's heavenly. With thousands of years of practice ingrained, dogs will continue their stinky behavior. The only way to stop the roll-and-stink is to keep your dog on a leash or teach tech him how to come when called.
If you have questions about your dog's behavior, please give us a call. The staff at Island Trees Veterinary Hospital is always available to answer your questions.
Tuesday, April 26th, 2016
Recognizing arthritis in cats is challenging. Many cats hide their pain very effectively. While we may sometimes see older cat limping or favoring one leg, more often than not arthritic cats simply become less active, sleeping and resting more of the time. They are also reluctant to jump onto surfaces that were easily accessible previously.
It is easy to mistake symptoms of arthritis for normal aging. We assume it's normal for an older cat to sleep more and be less active without ever wondering whether pain may be playing a part. We may even assume that our arthritic cat is learning manners or displaying better behavior because he no longer jumps onto the counter tops.
If your cat is starting to slow down and exhibits some of these symptoms, a complete physical examination by a veterinarian at Island Trees Veterinary Hospital is recommended. Aside from aging, arthritis can be confused with many other diseases. Blood tests and / or x-rays may be needed obtain a definitive diagnosis.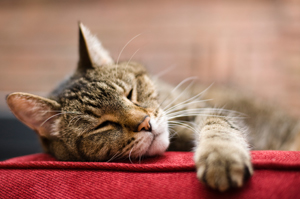 Possible Treatments and Remedies for Arthritis in Elderly Cats
Joint supplements containing glucosamine and/or chondroitin can help some cats.
Omega-3 fatty acids can help relieve pain from arthritis and other causes.
Adequan is an injectable product that can be used to help relieve arthritis pain and is effective for many cats.
Other medications are available to help relieve your cat's pain and may be necessary if the previous products are ineffective. These include tramadol, gabapentin, Fentanyl, and others. Your veterinarian will help you determine which medication is best suited for your cat.
Alternative Therapies
For some cats, alternative therapies such as acupuncture, hydrotherapy, and even massage can help ease the pain of arthritis.
For overweight cats, weight loss can help make arthritic cats more comfortable by relieving stress and pressure on sensitive joints. One of the veterinarian at Island Trees Veterinary Hospital will help you establish a safe and effective weight loss plan for your arthritic cat.
Exercise can also keep joints and muscles supple. Exercise can also be effective in burning calories and helping with weight loss where necessary.
Provide your cat with soft bedding in the form of a pet bed or blanket on which to sleep and/or rest.
Make sure the litter box is in an easily accessible location and is easy for your cat to enter and exit. Do not place your cat's only litter box in a basement or attic far from where your cat spends most of his time. Consider using a litter box with low sides for easy access.
Though arthritis is not a curable condition, the pain it causes can be controlled. However, the first step is recognizing that it exists. Drs. Jay Gottlieb and Gil Caren, the veterinarians at Island Trees Veterinary Hospital, can work with you in developing a treatment regime and strategy to combat the pain your cat may have from arthritis.
If you have any questions, please call Dr. Jay Gottlieb or Dr. Gil Caren at Island Trees Veterinary Hospital. The phone number is 516 735-0090.
Monday, March 7th, 2016
Choosing which breed of dog to share your home and life with is always an exciting process. You'll weigh factors such as size, temperament, grooming needs, and activity level, but what about life span?
Larger animals in the wild tend to encounter fewer predators, and as such they usually live longer than smaller creatures. Man's best friend rarely has to worry about predators, but interestingly, larger dogs tend to have significant shorter life spans than smaller dogs. The smallest dog breeds, such as the Chihuahua, can keep their human caretakers company for 17 years or more, while the largest canines typically live only half as long, or less.
While sources vary on the exact order of dog breeds with the shortest life spans, all name Great Danes, Bernese Mountain Dogs, Irish Wolfhounds, and a variety of Mastiffs at the top. These large breed dogs typically live from six to nine years.
Anyone who has ever had a large breed puppy knows how quickly they seem to transform from being tiny balls of fluff to adults. Large purebred dogs are often bred from a limited gene pool, which can result in significant health issues and shorter life spans. Due to their inbreeding, breeds like the Bernese Mountain Dog are more prone to suffering from malignant forms of cancer such as histiocytosis, lymphosarcoma, fibrosarcoma and osteosarcoma.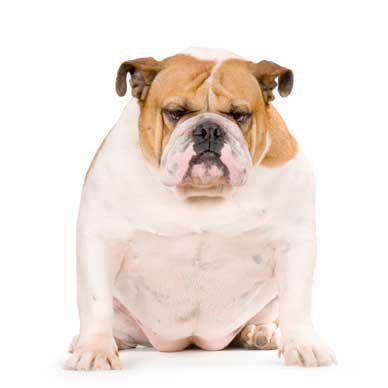 Although not in the top 10, one smaller breed dog is also known for having an average life expectancy of less than a decade. The English Bulldog was the forth-most popular dog in the United States in 2014, but the breed is prone to a variety of congenital health issues. English Bulldogs aren't fond of much physical activity and their stubby snouts can lead to breathing problems. They are plagued by respiratory and cardiac diseases, hip dysplasia and skin infections due to their signature wrinkled skin.
As a pet owner of an English Bulldog, Mastiff, Great Dane, Bernese Mountain Dog, Irish Wolfhound, Newfoundland, Saint Bernard, Bloodhound, or other larger-than-average breed, there are steps you can take to extend the time you'll share with your furry friend. Spaying or neutering is often believed to reduce the risk of some cancers, and providing your pooch with a proper, nutritious diet and exercise is particularly beneficial.
If you own a large breed dog and have questions about his or her health, please call or visit Island Trees Veterinary Hospital today. Dr. Gottlieb and Dr. Caren can advise you on the best medical care to keep your large dog happy and healthy throughout his entire life.