Thursday, October 6th, 2016
When witches, princesses and superheroes take to the streets in search of treats this Halloween, they'll have some furry friends by their side. According to a survey by the National Retail Federation, total spending for Halloween is expected to reach $8.4 billion this year, an all-time high since the survey began 11 years. With nearly 171 million Americans celebrating Halloween, it's estimated 16 percent of households will not only pick out costumes for themselves, but for their pets as well. Superheroes and mermaids are the top choices for pet costumes, with bees, sharks and Stars Wars-themed garb rounding out the list.
If you plan on letting your pet don a devilish disguise, there are a few safety tips to keep in mind. First, make sure your pet wants to wear a costume. While some animals may not mind being outfitted with a pumpkin suit, others may experience extreme discomfort and stress while in costume. Try putting the costume on your pet in advance of the big night to make sure he or she is comfortable with the idea. And while your pet is out trick-or-treating, don't forget about the pets that may be coming to your house – keep a few dog treats by the door to hand out to any four-legged companions accompanying trick-or-treaters.
Whether your pet is dressed like a spider or a dinosaur, make sure the costume allows for easy movement and is not restrictive or confining. However, also be on guard for costumes that drag on the ground. These costumes can get caught in doors or snag on other objects. If your pet's costume includes a mask, modify the eye holes so they are big enough to accommodate your pet's peripheral vision. A pet that can't see may experience increased stress and could become aggressive as a result.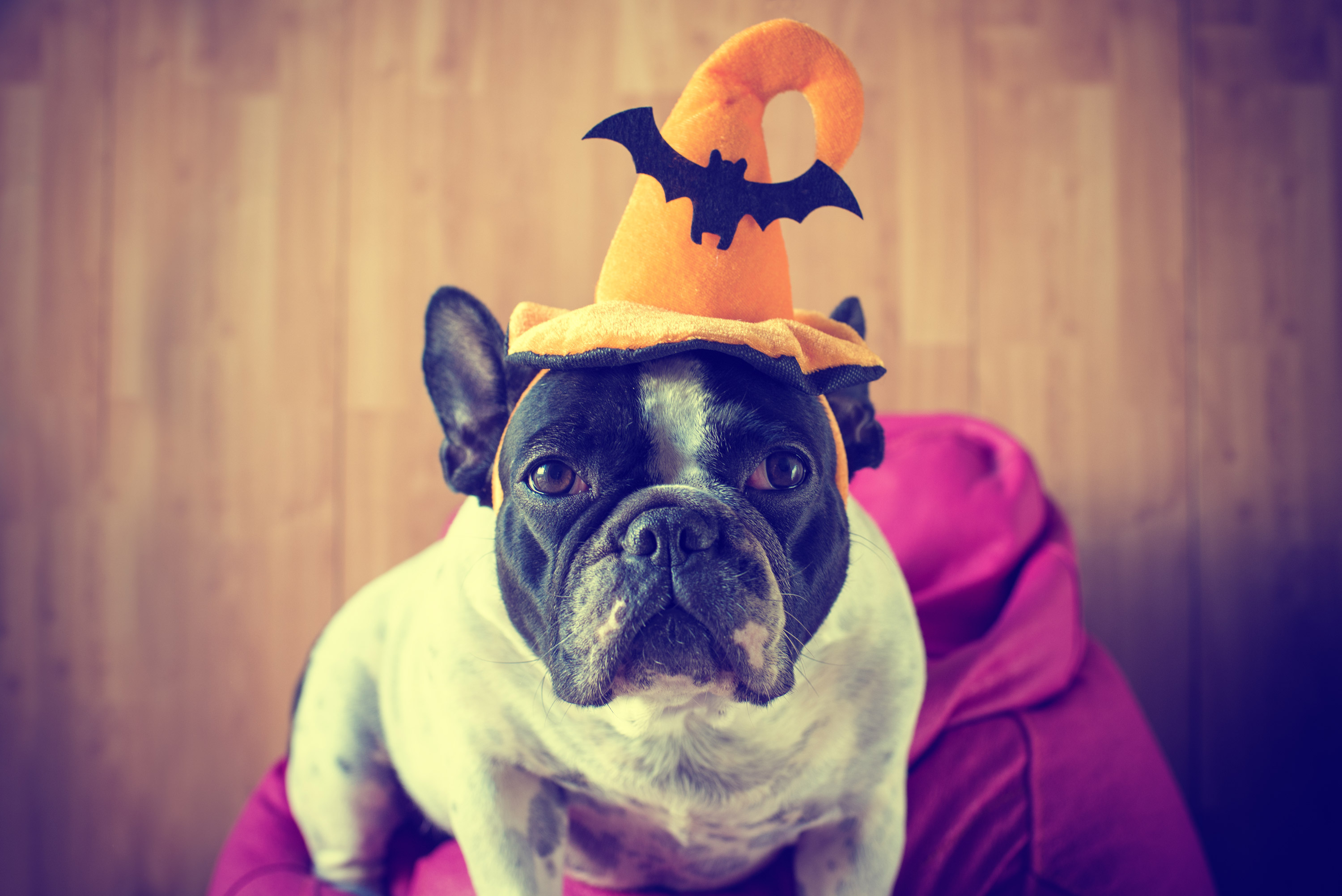 When the trick-or-treating is over and the treats are ready to be had, be sure to keep chocolate away from your dog. Any amount of chocolate is harmful to your pet, so keep the treats out of their paws, no matter how much they beg. Those cellophane and foil wrappers left behind after the treats are gone are also a potential health hazard for your pet. The wrappers can be caught in your pet's digestive track and cause illness, severe discomfort and even death if the problem is left untreated.
Additional pet safety tips to keep in mind this Halloween:
• Jack o'lanterns and lit candles may look spooky, but they can pose problems for your pet. Rambunctious pets can knock lit pumpkins over and start fires, and wagging tails can easily get burned by open flames. Keep lit pumpkins and candles up on a high shelf to avoid accidents.
• If you're hosting a Halloween party, keep your pet in a separate room, away from all the hustle and bustle. Too many strangers in odd costumes may cause your pet stress. This will also prevent your pet from sneaking out through an open door and darting out into the night.
• Keep your pet indoors during the days and nights around Halloween. Pranksters and vandals have teased, injured, stolen and, in rare cases, killed pets on Halloween. Keeping your pet inside will keep them from becoming a target.
• With all the Halloween festivities, it's a great idea to make sure your pet has proper identification if they escape from your house or become lost while out trick-or-treating.
Halloween can be a fun time for you and your pet. Following the above safety tips will make sure the only scares you experience are all in good fun.
Tuesday, September 27th, 2016
World Rabies Day is observed tomorrow (September 28) worldwide to educate and prevent the spread of the rabies virus. If you have additional questions, or would like to protect you and your pet from rabies, call the veterinarians at Island Trees Veterinary Hospital today.
Q: What is Rabies?
A: Rabies is a virus that infects the central nervous system in warm-blooded animals.  The disease is invariably fatal if left untreated; however, effective vaccines are available to protect people and pets.
Q: How do you contract rabies?
A: Rabies is passed along through contact with an infected animal's saliva and is almost always transmitted when an infected animal bites an uninfected animal or person. People usually get rabies from the bite of a rabid animal. It is also possible, but quite rare, that people may get rabies if infectious material from a rabid animal, such as saliva, gets directly into their eyes, nose, mouth, or a wound.
Q: Why should I be worried about rabies in wildlife?
A: Rabies is a serious public health concern because if left untreated it is always fatal. Costs associated with detection, prevention and control of rabies exceeds $300 million annually. According to the Centers for Disease Control and Prevention, about 90 percent of reported rabies cases in the United States are in wildlife.
Q: How can I tell if an animal has rabies?
A: The test to determine if an animal has contracted the rabies virus requires them to be euthanized to test the cells of the brainstem. Some of the visible signs of a rabid animal could include any of the following symptoms: aggressive behavior, attacking for no reason, lethargic, walking in a circle, confused, and drunk-like. Wildlife should never be approached at any time. If you have any questions about wildlife, please contact USDA's Wildlife Services at 1-866-4-USDA-WS (1-866-487-3297).
Q: What should I do if I am bitten by an animal?
A: Wash the wounds thoroughly with soap and water as a first aid precaution. Call your doctor or local health department immediately. If it is a domestic animal, get the name and address of the animal's owner. If it is a wild animal, contact your local health department, animal control, or professional wildlife officer for assistance. If the animal is dead, wear gloves or use a shovel to move it. If testing is necessary, put the carcass into a heavy plastic bag and place it in a cold area away from people and other animals. Clean the area where the animal was found with one part bleach to ten parts water. Call your local health department for further instructions.
Q: What can I do to prevent rabies?
A: Avoid contact with all wild animals. Make sure your pets are vaccinated in accordance with state and local laws. Report any suspicious acting animals to USDA's Wildlife Services at 1-866-4-USDA-WS (1-866-487-3297) or to your local police or animal control.  Do not relocate wildlife.
Tuesday, September 20th, 2016
Launched in 2007, World Rabies Day (September 28) aims to raise awareness the health impact of human and animal rabies. According to Dr. Charles Rupprecht, former chief of the rabies program at the U.S. Centers for Disease Control and Prevention, "Your local veterinarian plays a key role in controlling rabies."
So what can you do to help protect your pets and family? Vaccination is key.
Rabies is a fatal disease of the nervous system. It is caused by a virus that can infect all warm-blooded animals, including humans. The virus attacks the brain and spinal cord, causing severe nervous system dysfunction and eventually death. While instances of rabies infection are lower than ever, the disease remains a continuing problem. Vaccinating your pet against rabies is a key prevention method.
The most common way to contract rabies is through a bite from an infected animal. When a rabid animal bites, the rabies virus in its saliva passes through the broken skin of the victim. Rabid cats can also transmit rabies through their scratches if they have saliva on their paws.
Skunks, bats, coyotes, foxes, and raccoons are very susceptible to rabies. Cats, dogs, cattle and horses usually contract rabies through encounters with rabid wildlife.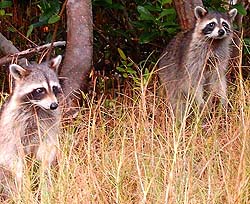 Raccoons are very susceptible to rabies.
The symptoms of rabies can be quite varied. In general, the disease shows three stages that occur in succession. (NOTE: not every animal will display these signs, so any animal behaving abnormally should be regarded with suspicion.)
Stage 1 – Attitude Change: The animal may show nervousness, shyness, aggression or other changes in its normal personality. May show a lack of fear of humans.
Stage 2 – Furious or Excitable Phase: Animals may become extremely agitated, or behave erratically. Animals may bite and snap at anything. Wild animals may wander into unaccustomed areas and attack livestock, people or pets. The tone of an animal's voice may change as its vocal cords become paralyzed. Seizures may occur.
Stage 3 – Paralysis: Victims become progressively paralyzed. Animals may be unable to move their hind limbs and unable to swallow, resulting in choking and frothing at the mouth. This phase ends in death, usually from paralysis of the respiratory muscles.
Rabies cannot be diagnosed with certainty based on symptoms alone. The suspicion of rabies can only be confirmed by testing samples of an animal's brain tissue.
Vaccination is an inexpensive, effective means of protecting your animals from rabies. All pets should be vaccinated regularly against rabies.
You can minimize the risk of rabies by avoiding close contact with wildlife. Remember, rabid animals often lose their fear of humans and may appear unusually friendly. Ensure that your house is unattractive to wild animals by keeping garbage bins securely fastened and sheds and garages closed. If your domestic animals are bitten or scratched by a wild animal, consult the veterinarians at Island Trees Veterinary Hospital.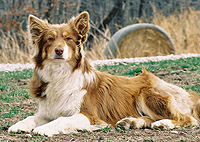 Vaccination is key to preventing rabies in your pet.
If you think you've been exposed to rabies, prompt medical attention is essential. If you've been bitten by any animal, clean and disinfect the wound thoroughly, then contact your physician or local health authority immediately. If the biting animal can be confined without further danger, it should be kept in a secure area while waiting for public health authorities to arrive. Depending upon the circumstances, the health authorities may choose to quarantine the animal for monitoring, or euthanize it for testing. The animal's vaccination status influences this decision.
Remember – rabies is a fatal disease in humans! Every biting incident should be investigated, even if the animal in question appears healthy.
If rabies exposure cannot be ruled out, people who are bitten are usually treated with a series of injections. There is no treatment for animals that have been exposed to rabies. In both humans and animals, the disease is almost always fatal once symptoms of nervous system dysfunction appear. For more information about rabies, contact your local veterinarian or public health official.
Prevention is the key to combating rabies. Make sure pets and high-risk livestock are vaccinated properly. Ask the veterinarians and medical team at Island Trees Veterinary Hospital about the best vaccination protocol for your pets or livestock. Keep away from wild animals, no matter how friendly they appear. Keep wild animals away from your home by securely fastening garbage bins and closing garages and sheds.
Tuesday, August 16th, 2016
Late summer is the time for storms and flooding. When disaster strikes, having an emergency plan is essential. But as you plan for the worst (and hope for the best), don't forget about your pet's place in those plans. Thousands of animals were displaced by the storms and flooding that ravaged the Gulf Coast following Hurricane Katrina in 2005, and New York and Long Island were severely affected by Hurricane Sandy in 2012. The recent floods in Louisiana have already forced thousands of residents—and their pets—out of their homes. Here are some tips to help you keep your pet safe in the event of a major emergency.
The first and most important step is to plan ahead. In the event of a hurricane, earthquake, flood or other natural disaster, you may be forced to evacuate your home. However, most disaster shelters, such as those maintained by the Red Cross, generally cannot accommodate pets, with the exception of service animals. Because of this, it's a good idea to work out some kind of emergency shelter plan for your pet. Contact hotels and motels outside your immediate area and find out if they allow pets, either in times of emergency or on a regular basis. Friends and relatives outside the affected area may also be able to care for your pets. Many veterinary hospitals and boarding kennels outside of the immediate disaster area also provide shelter for animals in an emergency. Some veterinary hospitals, especially those in disaster-prone areas, have emergency plans in place for pets staying at their facility. Whichever method you choose, keep a list of these "pet friendly" emergency accommodations on hand and make arrangements as far in advance as possible.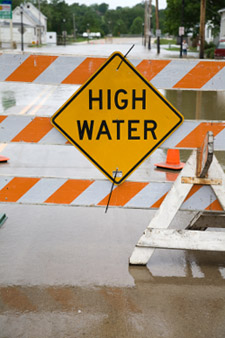 Whatever you do, don't leave your pet at home. Leaving a pet alone during an emergency is likely to result in your pet being injured, lost or even worse. If you are forced to evacuate and cannot make shelter arrangements for your pet, bring him or her with you and try to find shelter for them along the way. In the case of floods, hurricanes, major storms and other disasters for which warnings are often issued in advance, start making preparations immediately. Confirm emergency shelter arrangements, bring your pets inside, and be sure all of your animal companions are wearing some sort of ID tag. Microchipping your pet is the best way to ensure that you are able to find your pet should he or she become lost during an evacuation.
Having a disaster supplies kit for your pet is very helpful. This kit should include medications, medical records and a first aid kit, leashes and harnesses, a supply of food and portable water, a photo of your pet (in case he or she gets lost), and bedding and a toy or two to keep your pet comfortable, if easy to transport. Pet crates, for transporting your pets, are essential. Preparations for each pet depend on the species and age of the pet. For example, birds should be transported in a secure cage or carrier, while snakes can be transported temporarily in a pillowcase until more secure housing can be found. Farm owners or those caring for horses and other large animals must also make special arrangements for evacuating or sheltering their animals at home.
For more information and detailed examples of emergency plans, The Humane Society of the United States maintains a list of disaster preparedness resources for pet owners on their website. Additionally, the American Red Cross and the Federal Emergency Management Agency have compiled a list of resources and tips for keeping animals safe during a disaster. Individual states may have their own disaster plans for animals. The American Veterinary Medical Association maintains a list of states with animal disaster plans.
If you have questions about disaster planning for your pet, please call Island Trees Veterinary Hospital for more information
Tuesday, August 16th, 2016
The loss of a cherished animal companion can cause extreme sadness, intense guilt, and a whirlwind of other emotions. Often, you will seek answers to questions that may not be black and white. Below, you will find some of the most common questions pet owners ask of themselves while grieving the death of a pet.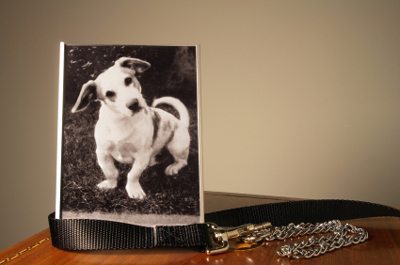 1. When is the right time to euthanize a pet?
Your veterinarian will make a recommendation based on your pet's physical condition and long-term outlook. You, however, have the unique insight into your pet's daily quality of life. By evaluating your pet's health honestly, you will be able to work with your veterinarian to come to the most humane decision for your individual pet. The decision to euthanize will never be easy, but is often the final act of love you can provide a pet who is suffering.
---
2. Should I stay with my pet during euthanasia?
This is a completely personal decision that you will need to make. Many pet owners want to be there for their pets and witness it so they can see it happened peacefully and without pain. This can be traumatic, but not witnessing the death may make it harder to accept that the pet is really gone. Also, you want to gauge your own emotional strength- if you have an uncontrolled outpouring of emotions before your pet passes, it may be upsetting for him or her to witness. Euthanasia can sometimes be performed at home. Discuss your options with your veterinarian.
---
3. I've heard of the stages of grief, but what are they?
The grieving process is often illustrated by five stages: denial, anger, bargaining, depression and acceptance. Typically, you will move through them progressively, but everyone grieves in different ways. You'll know you're beginning to heal when you're thinking more rationally and more often of the good times you shared with your pet rather than of the "what-ifs" and the guilt.
---
4. How can I cope with my feelings?
Having someone to share your feelings with will help you not have to keep them locked up inside. Don't deny how you feel or simply put on a brave face. You must acknowledge your feelings to work through them. Some of your thoughts may be misguided and as time passes you will be able to realize this. Do whatever works best for you as a means of emotional expression – go somewhere secluded and scream, cry, talk, write, paint, create a memorial, or find a new activity to fill the time you previously would've spent with your pet.
---
5. Should I just get over it?
It is common to hear the phrase "it was just a pet" when others find your emotions to be too extreme or too long-lasting. These people aren't aware that the death of a pet creates the same emotional response as the loss of a human friend or family member. Grieving is natural and thousands of pet owners can attest to that.
---
6. Who can I talk to?
Share your feelings with family or friends who have pets. Reminisce about your pet. Or, speak with Dr. Gottlieb or Dr. Caren at Island Trees Veterinary Hospital to identify pet loss counselors or support groups. Hospitals and churches also often have resources for grief support.
---
7. Should I do burial, cremation, or disposal?
This is another decision which should be based on your personal wishes. It can be easiest to have a clinic dispose of your pet's remains (often for a fee), but many prefer something more formal. Based on your living situation, a burial at home may be a good choice. However, both burial and cremation depend on your personal or religious values, finances, and future plans. Your veterinarian or an online search will provide options available in your area.
---
8. What should I tell my children?
Be honest with your children and provide as much information as they seek in a way that matches their age and maturity level. Saying their pet was "put to sleep" is not advised, as they may begin to fear bedtime. Allow your children to grieve in their own ways and be open about your own emotions around them rather than teaching them to keep it all inside.
---
9. Will my other pets get depressed?
Your other pets may notice a change in the household. Based on their relationship, some may search for their companion, eat less, and seem to be grieving. Giving your surviving pets extra love and attention during this time will be beneficial not only to them, but to you as well.
---
10. Should I get a new pet right away?
Generally, it is best to allow yourself time to work through your grief and loss before introducing a new pet into your home and life. A new pet is a unique individual, not a replacement. Try to avoid getting one that looks the same or naming it the same as your deceased pet and don't expect it to behave exactly the same either. Getting a new pet too soon may lead to resentment or feelings of disloyalty because you still want your old pet back.
The entire staff at Island Trees Veterinary Hospital is here to help you during this extremely difficult time. If you have any questions, please stop by our office or give us a call to set up a private consultation.
Monday, July 18th, 2016
Concerned pet owners may have come across a Facebook post warning against giving dogs ice water. The post claims that giving dogs ice water can cause bloat, which can lead to a life-threatening condition called gastric dilation and volvulus (GDV), or more commonly called "bloat." It's often accompanied by a seemingly true story of a well-meaning pet owner trying to keep their dog cool on a hot day only to find they must rush their pet to the emergency vet.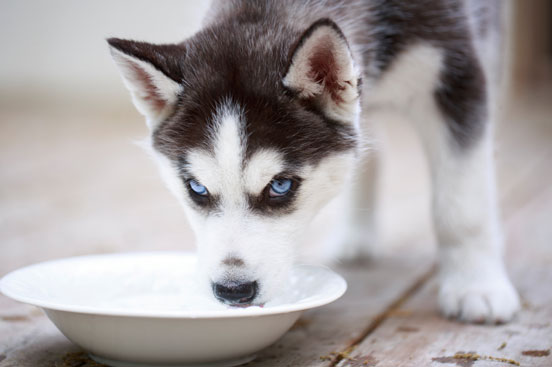 It sounds scary, but it's absolutely false. Veterinarians across the country have been addressing this myth for years, but the misinformation continues to spread thanks to social media. Frigid gastric 'cramping' is a falsehood similar to those that inform you that your hair will grow back coarser if you shave it (myth), or that you shouldn't go swimming for 30 minutes after eating lest you drown in a fit of cramps (myth).
Bloat can be caused when your dog drinks too much too quickly, but the temperature of the water has nothing to do with this. In fact, putting ice cubes in your dog's water can sometimes slow your dog's water consumption, keeping the risk of bloat at bay.
If you have a large dog and are concerned about bloat, we recommend feeding a few small meals per day instead of one large meal and avoid exercising for an hour or so after eating. But if your pup is thirsty on a hot day, there's nothing dangerous about helping them cool off with ice water.
Bloat or gastric torsion is a disease n which the dog's stomach dilates and then rotates, or twists, around its axis. Bloat is primarily a disease of large and giant-breed dogs. Deep-chested breeds such as great Danes, German shepherds and standard poodles are most commonly affected.
For additional information about bloat, please call Island Trees Veterinary Hospital.
Friday, July 8th, 2016
Heatstroke is a serious condition that can lead to rapid death. Symptoms of heatstroke must be recognized and treatment must be initiated rapidly.
Early symptoms of heatstroke include:
— labored breathing
— warm dry skin
— an anxious attitude
— profuse salivation.
As the condition progresses, the animal:
— develops a glazed look
— becomes unresponsive to external stimulation.
Looking inside the mouth, the tongue and gums have a bright red appearance. The heartbeat of the animal increases and if left untreated, he or she becomes weak and eventually collapses.
Immediate emergency care is required for an animal suffering from heatstroke. The animal should be placed in a bathtub filled with lukewarm water. If a tub is not available, the animal should wrapped in lukewarm damp towels (If towels are not immediately available, the pet should be hosed down). The water used to cool down the animal should be lukewarm, not cold. If the pet is responsive, small amounts of cool water should be offered to drink.
Heatstroke is an emergency. Call Island Trees Veterinary Hospital as soon as you detect any symptoms. Your pet should be seen by a veterinarian immediately.
Thursday, July 7th, 2016
Summer is a fun and exciting time of year. During the warm months, pets are less confined to the interior of the house and spend much more time outdoors. Special precautions must be taken to ensure that Rover and Kitty remain healthy and cool during the hot summer days.
Sweating It Out
Sweating is an efficient mechanism for cooling down an overheated body. The human body has millions of sweat glands located in the skin. When the body temperature is elevated, these glands secrete moisture (sweat) on the surface of the skin. Evaporation of this sweat is responsible for cooling down an overheated body.
Dogs and cats, unlike humans, do not cool off by sweating. Instead, they cool themselves by panting. Panting is the process of breathing in through the nose and breathing out through the mouth. As the air passes through the nose and mouth, some evaporation occurs. Panting is not as efficient as sweating, therefore pets have a difficult time coping with the summer heat.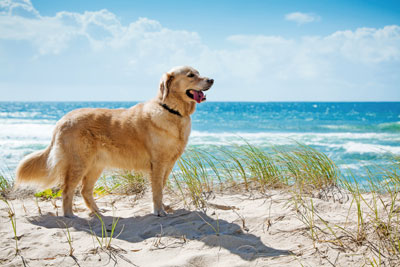 Heatstroke is a serious problem and is a major cause of accidental death in dogs. A pet left in a hot car or an animal that has no shade or water can die from heatstroke in just a short period of time. When you travel with your pet, or if he's left at home, plenty of cool, fresh, drinking water should be available at all times.
Certain animals are particularly sensitive to heatstroke. These include:

Young, old and overweight animals
Animals with shortened muzzles (Bulldogs, Pugs, Boxers, Pekinese, Lhasa Apsos, Shih Tzu, Boston Terriers, and Persian cats)
Animals with heart and / or respiratory problems
Animals with thick, heavy coats (particularly the northern or cold-breed animals)
Keeping Cool
During the hot summer months, pets should be kept cool. An outdoor doghouse or kennel should be well ventilated and located in the shade. Allowing a dog access to a child's shallow wading pool, filled with an appropriate amount of clean water, is an excellent method for keeping Rover cool during the heat of the day.
Overexertion and intense exercise should be avoided during the middle part of the day. Long walks and heavy exercise should be reserved for the early morning and late afternoon. When taking Rover for a walk, remember that he does not wear shoes. Dogs' paws are sensitive and burn easily on hot blacktop. Blacktop and other hot surfaces should be avoided.
Car Dangers
On warm sunny days, a pet should never be left unattended in an enclosed vehicle. If your pet absolutely must remain in the vehicle, the following precautions are recommended:

Completely open all windows and vents
The pet should remain in a well-ventilated cage or kennel
The vehicle should be parked in a shaded area, out of direct sunlight
Fresh water should be available
Return to the vehicle every 10-15 minutes to check up on him (her)
On a warm sunny day, the temperature inside a vehicle can reach 150 degrees within a period of 10-15 minutes. Trapped inside a hot vehicle, a pet can suffer from heatstroke and die very quickly.
If you have concerns about your pet this summer, please call Island Trees Veterinary Hospital for additional information.
Friday, June 17th, 2016
Diabetes is a condition caused by a relative resistance to or deficiency of insulin which results in elevated blood glucose levels and glucose in the urine. Diabetes mellitus is most common in older cats; however, obese cats are at an increased risk of developing this condition. Evidence has shown that genetics may play a role in the development of diabetes in cats. In particular, the Burmese breed has been identified as being predisposed to diabetes, and analysis of pedigrees has suggested that this is an inherited trait.
Insulin is produced by the pancreas and is released into the bloodstream where it travels to all the tissues of the body. Its main role is to enable cells to take up glucose (sugar) which is needed as an energy source. In diabetes, there is a relative or absolute deficiency of insulin. An absolute insulin deficiency may arise as a direct failure of the pancreas to produce this hormone. In most diabetic cats, there is both an absolute insulin deficiency and a situation whereby cells of the body fail to respond effectively to the insulin produced. This results in a decreased amount of glucose taken up by the cells and an increase of glucose in the blood (called hyperglycemia). As the cells are starved of glucose, the body begins to break down stored fats and proteins for sources of energy. This process results in weight loss and the accumulation of toxic waste products, which can cause a diabetic crisis known as ketoacidosis.
The symptoms of diabetes may be severe or mild. Due to the increased amount of glucose in the blood, it is excreted into the urine. Glucose that is passed into the urine takes water with it, so an increased volume of urine is produced. To compensate for the water lost into the urine, diabetic cats develop an increased thirst. Weight loss and an increased appetite are also frequently seen.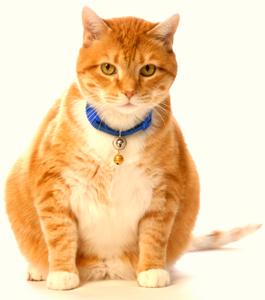 The cat owner often reports one or several of the following symptoms:
• Weight loss
• Increased appetite
• Increased urination
• Increased water consumption
These signs are not always present or may pass unnoticed. If a cat spends most of his or her time outdoors, the increased thirst and increased urination may not be noticed by the owner.
There are other clinical signs that may be observed. These include:
• Straining to pass urine or passing bloody urine (associated with a urinary tract infection)
• Poor coat
• Cataracts and retinal abnormalities causing vision problems
• Weakness in hind legs or dropped hocks
Some cats develop ketoacidosis, a complication in uncontrolled diabetes. In this situation, the cat may become extremely depressed, with symptoms such as vomiting, diarrhea, complete loss of appetite, dehydration, collapse and coma. If any of these signs are seen in a diabetic cat, it is an emergency condition and he or she should be taken to a veterinary hospital immediately.
Diabetes mellitus is usually a treatable condition, but requires considerable dedication and commitment from the cat's owners. Owners of a diabetic cat need to be aware that a strict routine must be followed. The timing of insulin injections is important; however, they can be altered to suit the lifestyle of the owner. Once the insulin injections have begun, they need to be given at regular intervals. Knowledge on correct insulin storage, handling and administration is also required. The dose of insulin given should never be changed without consulting your veterinarian. One of the most common reasons for poor stabilization at home is problems with insulin storage and/or administration.
If you feel that your is showing symptoms of diabetes, it is best to have him or her examined by a veterinarian at Island Trees Veterinary Hospital as soon as possible. The earlier that diabetes is diagnosed and brought under control, the easier it is to manage.
Tuesday, June 14th, 2016
Summer is storm season, and Spot is going wild. Maybe he's pacing, hiding under the bed, shaking, panting, or simply craves your attention – whatever it may be, he's scared and needs your help. Many pet owners think that their dogs will grow out of their phobias, and therefore don't bother to indulge in Spot's tantrums. Yet oftentimes it will only get worse with time if nothing is done to help curb your dog's fears.
There are various theories about why dogs are particularly affected by storms. Some say that low-frequency waves and even electric shocks effect dogs immediately preceding the storm, which humans cannot even hear or feel. This builds anxiety, and by the time the storm has hit, your dog has gone full-fledge manic. But really, can you blame him?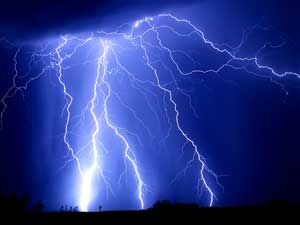 Here are a few tips to help alleviate your dog's storm phobia:
Calm him down like you would your own child. Speak to your dog in a soft and soothing voice in order to assure him that there is no need for stress and fear. Never yell at him when he reacts to the storm, this will only increase his fear – and with it, his barking. This does not, however, mean you should over-coddle him. This may only worsen his phobia.
Reward calm behavior. Try to train your dog to settle down on command and learn that becoming calm is a behavior that – along with sit and stay – will be rewarded.
Exercise and tire out your dog before a storm is scheduled to hit. This way he'll have less energy to focus on stress.
Create a safe room for your dog to go during the storm. This can be a carpeted room without windows, a basement, or other place where you can play calming music without hearing the outside commotion. However, don't confine your dog to a small space, especially a crate, as this will only build anxiety.
Play a CD with light storm sounds in order to better acclimate your dog throughout the year. You can supply him with treats while he remains calm through the sounds, and gradually increase the volume over time.
Consider an anti-anxiety drug. If you think your dog could benefit from an anti-anxiety prescription medication – or if you have any other concerns, don't hesitate to call Island Trees Veterinary Hospital. Our veterinarians and medical staff are available to help you with all your pet's needs.
Although there's no easy solution, a few minor adjustments and a bit of patience will go a long way towards helping your Fido weather the storm.