CAT | Pet Health
Thursday, December 15th, 2016
Holiday season adornments are attractive to all creatures. The ornaments, foods, gifts, wrappings, ribbons, lights and plants are all curiosities for pets. Pets investigate new items by sniffing, tossing, chasing and finally by tasting. A few precautions are necessary to avoid the holiday crowds at the veterinary hospital.
Behold! Everything Looks Delicious
The most common problems this time of year are stomach or intestinal disturbances caused by pets eating the holiday feast or other novelties. Scraps from the table can cause gastrointestinal upset and even predispose pets to life-threatening pancreatitis. Bones can get stuck in the mouth or perforate the intestines and should be avoided. Chocolate is poisonous to cats, dogs and birds. Plastic wrap and aluminum foil (coated with good-tasting juices) are enticing but can cause intestinal damage and even blockage if eaten by your pet.
Other sweet treats like gum and hard candies can also make your pet ill. Sugar-free candies and gum are made with xylitol, a sugar substitute that can cause a drop in blood sugar, depression, loss of coordination and seizures in your pet. Xylitol is also linked to liver failure in dogs. Be sure to keep all candies, chocolate and other sweets out of your pet's reach. If you believe your pet may have ingested chocolate or candy, call your veterinarian immediately.
Be sure to properly dispose of leftovers and wrappers. Feed pets their usual diet. Treats formulated similarly to the pet's regular diet are generally healthy and safe. Also keep in mind while cooking that pets may not know about hot stoves or to stay out from underfoot. Keep pets away from the stove so they don't get burned or have hot foods spilled on them.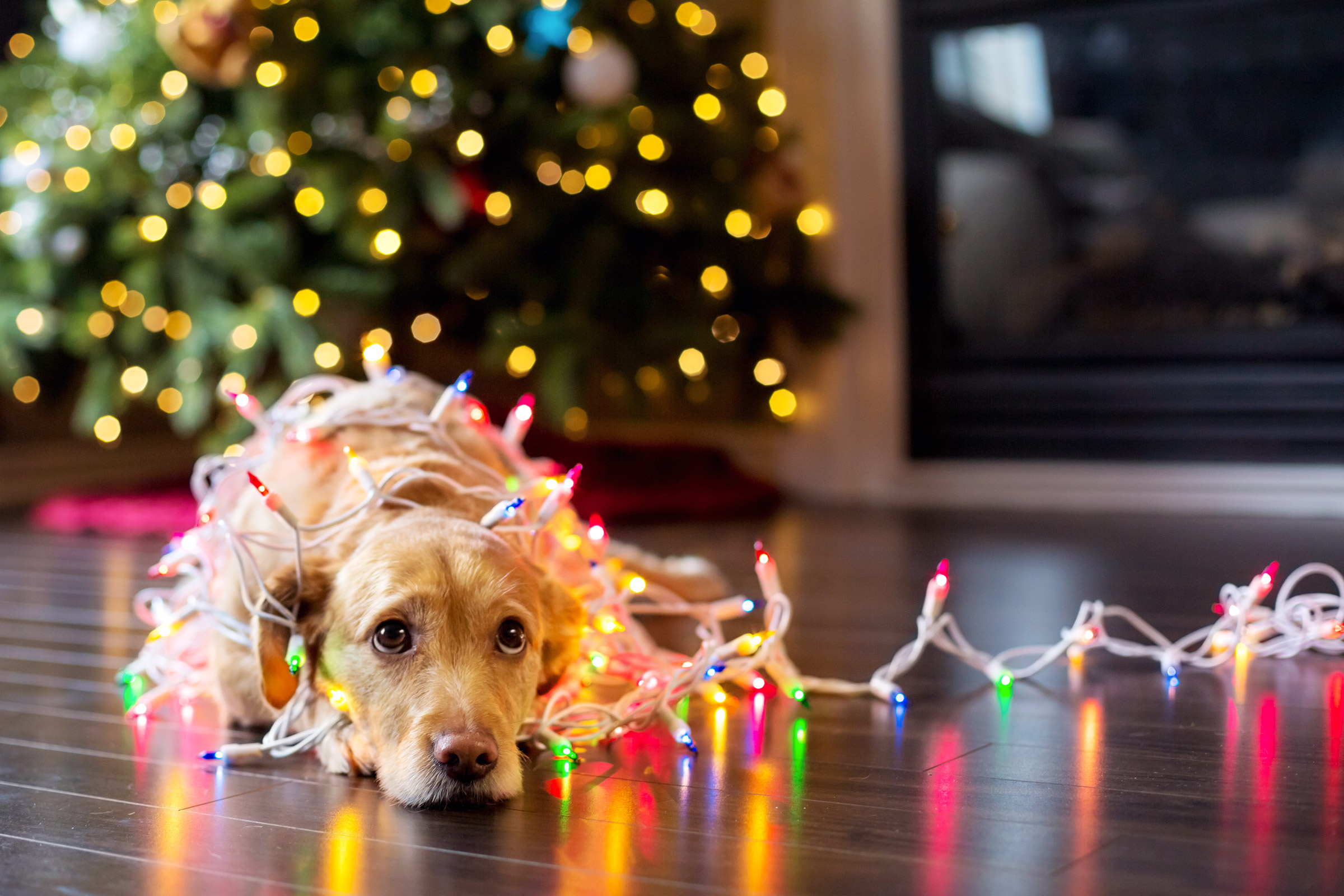 Holiday Plants and Decorations
Several decorative plants are poisonous. Mistletoe and holly can cause stomach upset with vomiting and diarrhea. The berries of these plants are attractive, easily swallowed and potentially fatal if consumed. Poinsettias, like the leaves of most any plant, can also cause stomach upset. Use artificial mistletoe and holly, and keep other plants out of your pet's reach.
Make sure Christmas trees are secured so pets can't pull them over. Omit preservatives from the tree-stand water and cover the tree well so pets don't drink from it. Don't spray fake snow on the tree unless it is labeled safe for pet consumption. Angel hair is spun glass and is irritating to both the inside and outside of your pet. Even glass ornaments and ornament hooks have been chewed and swallowed. These objects can cause problems from stomach upset to damaged intestines. Low-hanging ornaments are a real temptation, as are tinsel and electric lights. Decorative lights and electrical wiring can cause shock or burns when chewed, so remember to unplug holiday lights when pets are left unattended.
The Hustle and Bustle of Goings-On
Holidays have lots of activity. Be sure doors are not left open as guests come and go. Indoor pets inadvertently left outside could be injured by frostbite, cars or other animals. Ice-melting chemicals and salt on sidewalks and roads can severely burn foot pads and should be washed off right away. Also, watch that guests don't leave interesting objects such as chocolate, ribbons, stocking stuffers or other illicit treats, within your pet's reach.
If your pet does get sick, consult your veterinarian before giving any medications. Many of the over-the-counter drugs such as acetaminophen (Tylenol, Excedrin and ibuprofin), Advil and Motrin, are toxic for animals even though they are safe for us. Don't wait to see if your pet gets better. If your pet is acting sick, consult your veterinarian immediately.
Monday, December 5th, 2016
For many people, overindulging in holiday goodies may result in a few extra pounds; however, the consequences for our animal companions are much greater if they accidentally ingest cookies, candy or baked goods containing chocolate. In any form ranging from one-ounce baking squares to brownies, chocolate contains theobromine and caffeine, both of which can cause stimulation of the central nervous system, an increase in heart rate and tremors. Clinical symptoms such as vomiting, diarrhea, seizures, hyperactivity and increased thirst. Urination and heart rate can be seen with the ingestion of as little as 1/4 ounce of baking chocolate by a 10-pound dog.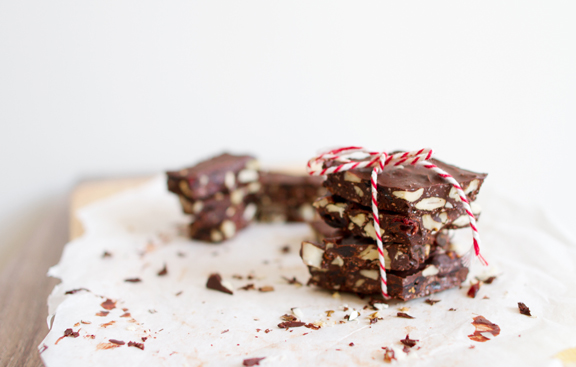 Veterinary poison and emergency center across the country seem to receive more calls involving chocolate toxicosis during Halloween, Thanksgiving, Christmas, Valentine's Day and Easter. During one Thanksgiving holiday, an 18-pound cocker spaniel consumed an 18-ounce box of milk chocolate truffles. By the time the owners brought the dog to the veterinary emergency center, she had already vomited several times and was drinking large amounts of water. The emergency clinician worked in conjunction with the dog's veterinarian to provide emergency treatment, which included activated charcoal, intravenous fluids and medication for her elevated heart rate. She'd recovered by the next morning, but spent the day in doggie day care to make sure she didn't have further problems.
Although chocolate toxicosis is more common in dogs who have been known to eat candy and trays of brownies and fudge accidentally left out, it can be a potential problem with any species. Take care this holiday season and keep candy out of your pets' reach – and don't let them in the kitchen unsupervised when you're baking. If you suspect your pet has eaten chocolate, call your veterinarian immediately.
Tuesday, November 15th, 2016
November is National Pet Diabetes Month, but with more than 50 percent of the nation's cats and dogs overweight or obese, raising awareness of the common endocrine disease has been extended to pets – rather than just their human caretakers. It is estimated that one in every 200 cats may be affected by diabetes, being the most common endocrine condition found in felines. The numbers for dogs are similar and only expected to increase.
Diabetes results when a pet's body doesn't produce enough insulin (Type I DM) or doesn't process it properly (Type II DM). When your pet eats, carbohydrates found in his or her food are converted into simple sugars, one of which is glucose. Glucose is then absorbed into the bloodstream through the intestines and travels to cells throughout the body. Inside cells, insulin typically helps turn the glucose into fuel. However, when there isn't enough insulin, glucose can't even enter the cells to be converted into energy and instead just builds up in the bloodstream.
Symptoms of Diabetes in Cats and Dogs
• Lethargy
• Excessive thirst
• Frequent urination
• Always hungry, yet maintains or loses weight
• Thinning, dry and dull coats in cats
• Cloudy eyes in dogs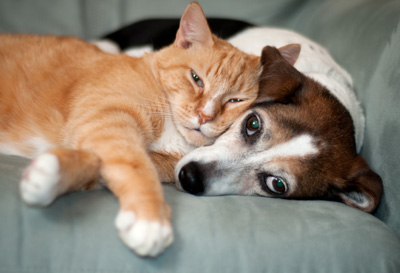 At-Risk Pets
• Those with genetic predispositions
• Those with other insulin-related disorders
• Those who are obese and/or physically inactive
• Dogs who are between 4- to 14-years-old
• Unspayed/intact female dogs are twice as likely to suffer from diabetes
• Dog breeds with greater risk for development: Cocker spaniels, dachshunds, Doberman Pinschers, German shepherds, golden retrievers, Labradors, Pomeranians, terriers and Toy Poodles
Although diabetes can't be cured, it can be managed so that symptoms are reduced or eliminated entirely. Your veterinarian will decide which treatment options are best for your pet. Often, changes in diet and lifestyle, combined with or without daily insulin injections, can help your pet live a happy, healthy, active life.
If you've noticed any of the above symptoms in your pet and suspect he or she may have diabetes, contact Island Trees Veterinary Hospital today. Veterinarians are the only professionals who can accurately diagnose your pet and provide proper health management. Diabetes can affect a pet differently over time, even if your pet has experienced a long period of stability. The sooner your pet is diagnosed, the better, and the less likely you'll incur the cost of an expensive emergency visit for diabetic complications.
Thursday, November 3rd, 2016
Thanksgiving is a holiday meant for gathering around the dinner table with family and friends to share in your thanks for all that you have and all that you're about to consume. For many pet owners, Fido and Mittens are valued members of the family and saying 'no' to their pleading eyes may be something you skimp on given the special occasion.
You may already know of the Thanksgiving foods to avoid feeding your pet, for various health and safety reasons. Those foods include raw or bone-ridden bits of turkey, raw bread dough and cake batter, walnuts, mushrooms, onions and garlic, sage and nutmeg, and, of course, chocolate. There are, however, some foods which should be perfectly safe to share with most pets.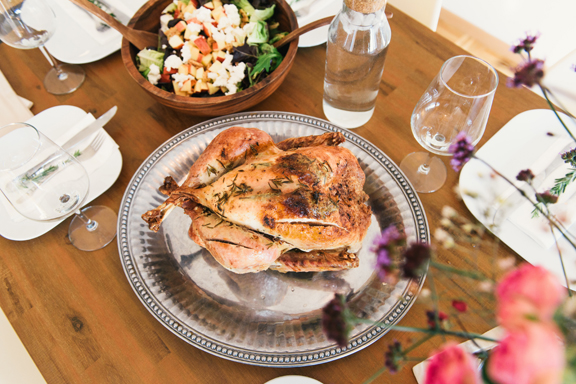 • Turkey – In small amounts, and without bones or excess skin and fat, cooked turkey is just fine to feed your pets under the table.
• Pumpkin – Again, in small amounts, pumpkin is safe for pets and can even quell an upset stomach if they've overdone it on other tasty Thanksgiving fare. With a bounty of beta carotene, vitamins and fiber, pumpkin also helps with digestion. And, if you're trying to help your pet slim down, it's low-calorie!
• Sweet Potatoes – If your pets are at your feet during meal preparation, a taste of sweet potato won't hurt them. Just be sure it's before you add any of the sweet deliciousness, as pets will have a hard time digesting it. Cooked and plain is the way to go.
• Veggies – Most pets enjoy the satisfying crunch of raw vegetables. Carrots and broccoli are packed with beneficial vitamins.
Even though it's Thanksgiving, remember: everything in moderation, especially for your pets. If your kitty or pooch does overindulge, they could develop a serious upset stomach, diarrhea or an inflammatory condition of the pancreas. Try to keep your pets on their regular diets through the holiday and supplement the above Thanksgiving goodies only as small treats.
Thursday, October 6th, 2016
When witches, princesses and superheroes take to the streets in search of treats this Halloween, they'll have some furry friends by their side. According to a survey by the National Retail Federation, total spending for Halloween is expected to reach $8.4 billion this year, an all-time high since the survey began 11 years. With nearly 171 million Americans celebrating Halloween, it's estimated 16 percent of households will not only pick out costumes for themselves, but for their pets as well. Superheroes and mermaids are the top choices for pet costumes, with bees, sharks and Stars Wars-themed garb rounding out the list.
If you plan on letting your pet don a devilish disguise, there are a few safety tips to keep in mind. First, make sure your pet wants to wear a costume. While some animals may not mind being outfitted with a pumpkin suit, others may experience extreme discomfort and stress while in costume. Try putting the costume on your pet in advance of the big night to make sure he or she is comfortable with the idea. And while your pet is out trick-or-treating, don't forget about the pets that may be coming to your house – keep a few dog treats by the door to hand out to any four-legged companions accompanying trick-or-treaters.
Whether your pet is dressed like a spider or a dinosaur, make sure the costume allows for easy movement and is not restrictive or confining. However, also be on guard for costumes that drag on the ground. These costumes can get caught in doors or snag on other objects. If your pet's costume includes a mask, modify the eye holes so they are big enough to accommodate your pet's peripheral vision. A pet that can't see may experience increased stress and could become aggressive as a result.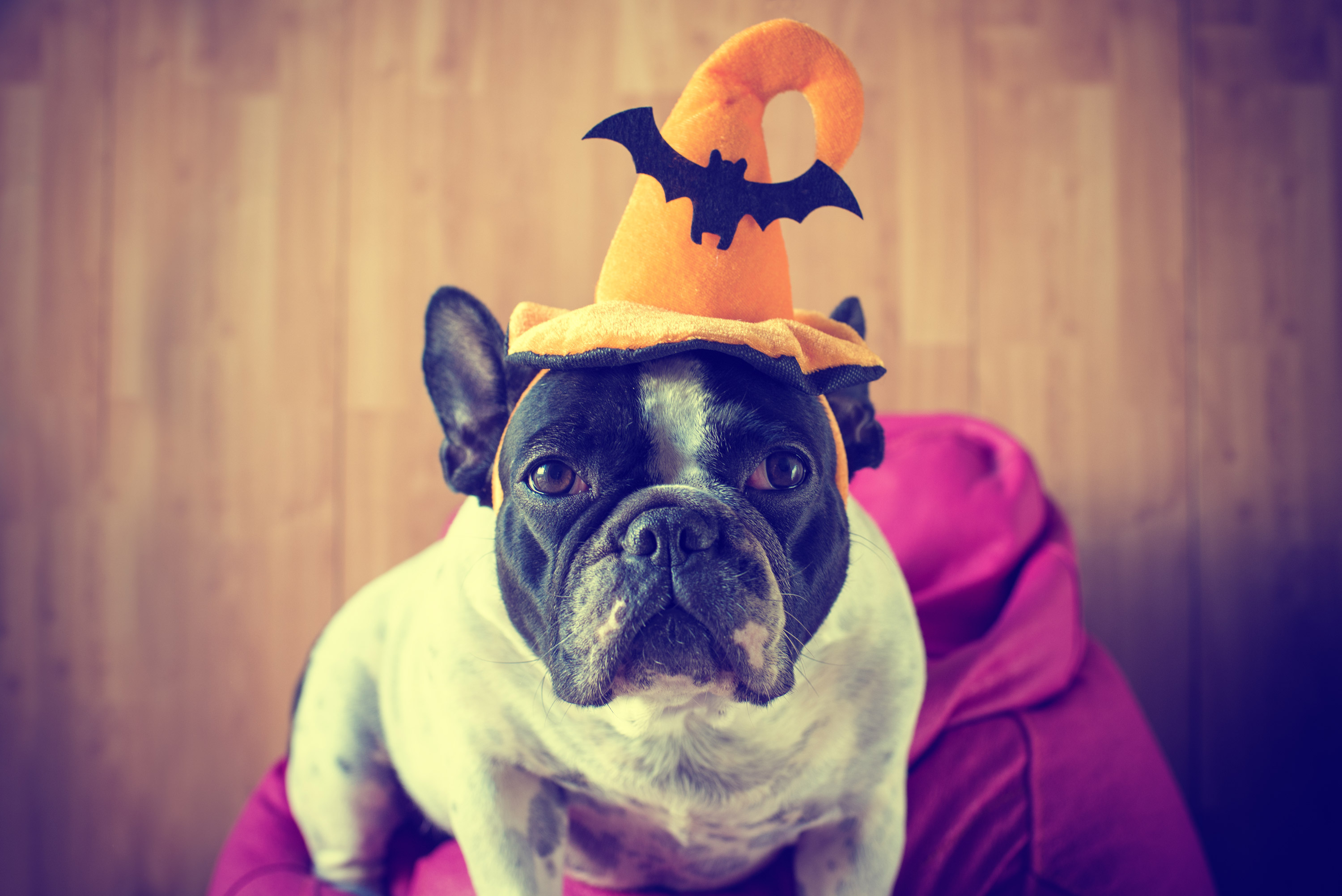 When the trick-or-treating is over and the treats are ready to be had, be sure to keep chocolate away from your dog. Any amount of chocolate is harmful to your pet, so keep the treats out of their paws, no matter how much they beg. Those cellophane and foil wrappers left behind after the treats are gone are also a potential health hazard for your pet. The wrappers can be caught in your pet's digestive track and cause illness, severe discomfort and even death if the problem is left untreated.
Additional pet safety tips to keep in mind this Halloween:
• Jack o'lanterns and lit candles may look spooky, but they can pose problems for your pet. Rambunctious pets can knock lit pumpkins over and start fires, and wagging tails can easily get burned by open flames. Keep lit pumpkins and candles up on a high shelf to avoid accidents.
• If you're hosting a Halloween party, keep your pet in a separate room, away from all the hustle and bustle. Too many strangers in odd costumes may cause your pet stress. This will also prevent your pet from sneaking out through an open door and darting out into the night.
• Keep your pet indoors during the days and nights around Halloween. Pranksters and vandals have teased, injured, stolen and, in rare cases, killed pets on Halloween. Keeping your pet inside will keep them from becoming a target.
• With all the Halloween festivities, it's a great idea to make sure your pet has proper identification if they escape from your house or become lost while out trick-or-treating.
Halloween can be a fun time for you and your pet. Following the above safety tips will make sure the only scares you experience are all in good fun.
Tuesday, September 27th, 2016
World Rabies Day is observed tomorrow (September 28) worldwide to educate and prevent the spread of the rabies virus. If you have additional questions, or would like to protect you and your pet from rabies, call the veterinarians at Island Trees Veterinary Hospital today.
Q: What is Rabies?
A: Rabies is a virus that infects the central nervous system in warm-blooded animals.  The disease is invariably fatal if left untreated; however, effective vaccines are available to protect people and pets.
Q: How do you contract rabies?
A: Rabies is passed along through contact with an infected animal's saliva and is almost always transmitted when an infected animal bites an uninfected animal or person. People usually get rabies from the bite of a rabid animal. It is also possible, but quite rare, that people may get rabies if infectious material from a rabid animal, such as saliva, gets directly into their eyes, nose, mouth, or a wound.
Q: Why should I be worried about rabies in wildlife?
A: Rabies is a serious public health concern because if left untreated it is always fatal. Costs associated with detection, prevention and control of rabies exceeds $300 million annually. According to the Centers for Disease Control and Prevention, about 90 percent of reported rabies cases in the United States are in wildlife.
Q: How can I tell if an animal has rabies?
A: The test to determine if an animal has contracted the rabies virus requires them to be euthanized to test the cells of the brainstem. Some of the visible signs of a rabid animal could include any of the following symptoms: aggressive behavior, attacking for no reason, lethargic, walking in a circle, confused, and drunk-like. Wildlife should never be approached at any time. If you have any questions about wildlife, please contact USDA's Wildlife Services at 1-866-4-USDA-WS (1-866-487-3297).
Q: What should I do if I am bitten by an animal?
A: Wash the wounds thoroughly with soap and water as a first aid precaution. Call your doctor or local health department immediately. If it is a domestic animal, get the name and address of the animal's owner. If it is a wild animal, contact your local health department, animal control, or professional wildlife officer for assistance. If the animal is dead, wear gloves or use a shovel to move it. If testing is necessary, put the carcass into a heavy plastic bag and place it in a cold area away from people and other animals. Clean the area where the animal was found with one part bleach to ten parts water. Call your local health department for further instructions.
Q: What can I do to prevent rabies?
A: Avoid contact with all wild animals. Make sure your pets are vaccinated in accordance with state and local laws. Report any suspicious acting animals to USDA's Wildlife Services at 1-866-4-USDA-WS (1-866-487-3297) or to your local police or animal control.  Do not relocate wildlife.
Tuesday, September 20th, 2016
Launched in 2007, World Rabies Day (September 28) aims to raise awareness the health impact of human and animal rabies. According to Dr. Charles Rupprecht, former chief of the rabies program at the U.S. Centers for Disease Control and Prevention, "Your local veterinarian plays a key role in controlling rabies."
So what can you do to help protect your pets and family? Vaccination is key.
Rabies is a fatal disease of the nervous system. It is caused by a virus that can infect all warm-blooded animals, including humans. The virus attacks the brain and spinal cord, causing severe nervous system dysfunction and eventually death. While instances of rabies infection are lower than ever, the disease remains a continuing problem. Vaccinating your pet against rabies is a key prevention method.
The most common way to contract rabies is through a bite from an infected animal. When a rabid animal bites, the rabies virus in its saliva passes through the broken skin of the victim. Rabid cats can also transmit rabies through their scratches if they have saliva on their paws.
Skunks, bats, coyotes, foxes, and raccoons are very susceptible to rabies. Cats, dogs, cattle and horses usually contract rabies through encounters with rabid wildlife.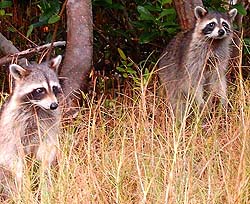 Raccoons are very susceptible to rabies.
The symptoms of rabies can be quite varied. In general, the disease shows three stages that occur in succession. (NOTE: not every animal will display these signs, so any animal behaving abnormally should be regarded with suspicion.)
Stage 1 – Attitude Change: The animal may show nervousness, shyness, aggression or other changes in its normal personality. May show a lack of fear of humans.
Stage 2 – Furious or Excitable Phase: Animals may become extremely agitated, or behave erratically. Animals may bite and snap at anything. Wild animals may wander into unaccustomed areas and attack livestock, people or pets. The tone of an animal's voice may change as its vocal cords become paralyzed. Seizures may occur.
Stage 3 – Paralysis: Victims become progressively paralyzed. Animals may be unable to move their hind limbs and unable to swallow, resulting in choking and frothing at the mouth. This phase ends in death, usually from paralysis of the respiratory muscles.
Rabies cannot be diagnosed with certainty based on symptoms alone. The suspicion of rabies can only be confirmed by testing samples of an animal's brain tissue.
Vaccination is an inexpensive, effective means of protecting your animals from rabies. All pets should be vaccinated regularly against rabies.
You can minimize the risk of rabies by avoiding close contact with wildlife. Remember, rabid animals often lose their fear of humans and may appear unusually friendly. Ensure that your house is unattractive to wild animals by keeping garbage bins securely fastened and sheds and garages closed. If your domestic animals are bitten or scratched by a wild animal, consult the veterinarians at Island Trees Veterinary Hospital.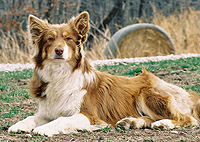 Vaccination is key to preventing rabies in your pet.
If you think you've been exposed to rabies, prompt medical attention is essential. If you've been bitten by any animal, clean and disinfect the wound thoroughly, then contact your physician or local health authority immediately. If the biting animal can be confined without further danger, it should be kept in a secure area while waiting for public health authorities to arrive. Depending upon the circumstances, the health authorities may choose to quarantine the animal for monitoring, or euthanize it for testing. The animal's vaccination status influences this decision.
Remember – rabies is a fatal disease in humans! Every biting incident should be investigated, even if the animal in question appears healthy.
If rabies exposure cannot be ruled out, people who are bitten are usually treated with a series of injections. There is no treatment for animals that have been exposed to rabies. In both humans and animals, the disease is almost always fatal once symptoms of nervous system dysfunction appear. For more information about rabies, contact your local veterinarian or public health official.
Prevention is the key to combating rabies. Make sure pets and high-risk livestock are vaccinated properly. Ask the veterinarians and medical team at Island Trees Veterinary Hospital about the best vaccination protocol for your pets or livestock. Keep away from wild animals, no matter how friendly they appear. Keep wild animals away from your home by securely fastening garbage bins and closing garages and sheds.