Newsletter
The veterinarians and staff at the Island Trees Veterinary Hospital are pleased to provide you with an online newsletter. This fun and fact-filled newsletter is updated on a regular basis.
Included in the newsletter are articles pertaining to pet care, information on our animal hospital, as well as news on the latest trends and discoveries in veterinary medicine.
Please enjoy the newsletter!
Current Newsletter Topics
Earth Day: How to Make Your Dog More Green
Let's face it: Dogs have big carbon pawprints, as we all do. Because they are largely carnivorous, their toll on the environment is nearly as large as that of a human, but there are ways to create a more environmentally sustainable pooch.
What is a Carbon Pawprint?
A carbon footprint is the amount of carbon dioxide we put into the atmosphere just by living our daily lives. Environmental groups have been watching the rising amount of carbon dioxide, methane and other greenhouse gases in our atmosphere and urging everyone to cut back where they can. The biggest emitters of CO2 are automobiles, factories and coal-fired power plants. But even the family dog creates its share of harmful greenhouse gases. Some report that the dog is as big an emitter as the family SUV.
The Carnivorous Diet
Your dog's meat-loving diet is the biggest factor in his carbon emissions. Beef cows emit methane, an even more dangerous greenhouse gas than carbon dioxide. Even chickens and lambs are not raised in an eco-friendly way, and those heavy bags of dry food and cans of meaty foods have to travel a very long way to get to your door.
The solution? Make your own dog food using locally grown or organic vegetables and vegetable proteins. Your veterinarian can help you determine the exact mix of carbohydrate, protein and fat to keep the dog happy and healthy, and can suggest vitamins and minerals that should be included.
Consider how much healthier homemade meals can be for your dog, especially considering the recent recalls of commercial pet food. Toxins and salmonella introduced in the manufacturing process poisoned and sickened many pets. Your homemade dog food also won't have chemicals and preservatives.
If this seems too complicated, consider buying smaller packages of locally made dog food, or you can switch to meat sources other than beef, which have less impact on the environment.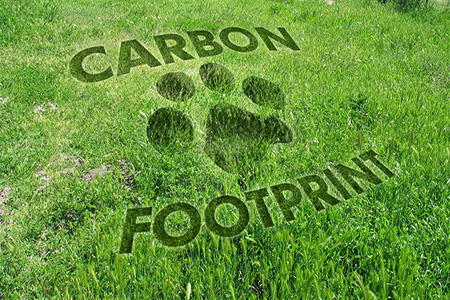 Other Environmental Impacts
When buying pet products, look for eco-friendly brands that limit the amount of harmful chemicals that will eventually enter the air or water. Dog shampoos often contain environmental pollutants such as sodium lauryl sulfate. Read labels. If you are buying dog toys, avoid plastic and synthetic products and look for recycled and recyclable goods. There are many available products made from natural fibers such as organic cotton or hemp. Dogs love cotton stuffed animal toys they can toss around, but make sure they are tough enough not to break apart.
Safe Flea and Tick Treatments
The Natural Resources Defense Council (NRDC) recently published a warning about flea control products. Their research suggests that some products pose a risk of cancer for children. If you have young children in the household, ask your vet about safe handling instructions for your pest products. You may wish to consider some alternate products available from your veterinarian. You can also read the NRDC's list of safer flea control products.
Pooper Scoopers
When walking your dog in a city park or along suburban sidewalks, most dog owners know to pick up after their dogs. Not scooping the poop is irresponsible. If you leave dog droppings, the bacteria can contaminate nearby water reservoirs and wells. If you are picking up after your dog, shop for biodegradable plastic bags.
Control Pet Populations
Overpopulation of dogs, and a surplus of unwanted dogs, is not a healthy situation for the planet. Spaying and neutering your dog is the eco-conscious thing to do. An unwanted litter of puppies creates a huge environmental impact, as much as a fleet of SUVs. Consider visiting a shelter or rescue organization when it comes time to add a dog to your family.
Small steps such as these can make a difference, especially when practices become widespread. You don't have to give up the dog to be environmentally responsible. If we all do our part, we can make pet ownership sustainable.
Say Thank You: World Veterinary Day is April 29
Saturday, April 29 is World Veterinary Day for 2017. Started by the World Veterinary Association, World Veterinary Day was started to honor veterinarians and spread awareness of the One Health Concept, which "recognizes that the health and well-being of animals, humans and the ecosystem are interconnected, and depend on effective and sustained collaboration between human and animal-focused disciplines."
But what does your veterinarian actually do?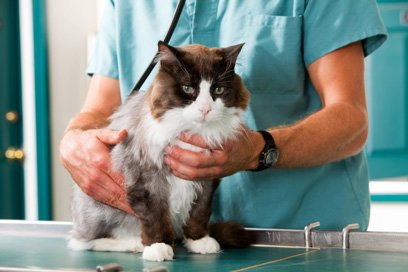 If you think veterinary medicine is about animals, you're only partially right. Animals don't call veterinarians. People call veterinarians. The vast range of people and places needing veterinary services include research laboratories, pharmaceutical companies, zoos, dairies, swine farms, public health departments, feed industry, livestock industry and pet owners. Veterinary medicine is a great field because it encompasses so many different areas.
Most people don't realize how closely human medicine is linked to veterinary medicine. Lifesaving medical advances, in areas from vaccine development to heart surgery, could not have been made without the use of research animals. People may also be unaware of the public services that involve veterinarians. Government agencies from the FDA to state health departments rely on veterinarians to track rabies, foodborne illnesses and diseases transmitted from animals to people.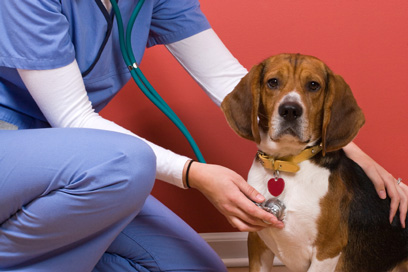 Of course, there are many benefits to working closely with animals. One of the pleasures of being a veterinarian is that people who own animals love their animals, whether the animals are horses, pigs, iguanas or puppies. You are generally dealing with people with empathy who like what they are doing. They recognize that what is best for the animal is also usually best for them.
For more information about World Veterinary Day, check out the World Veterinary Association's website.
Help, My Cat Keeps Me up All Night
You love your purring, furry companion, but when they're up and about during the night, making noise throughout your home that you begin to see them less of a friend and more of an enemy. Say goodbye to the night reign of the fur monster with these tips.
Cats are considered crepuscular, meaning they're most active from dawn to dusk, which might not exactly synchronize with your sleeping schedule. The good news is that you don't have to give up sleep forever. You can help your cat adjust to a new schedule over time, but first it's important that your cat is not waking you up because they're ill. Be sure to take your cat for yearly wellness exams.
Sure, you might swear your cat sleeps all day (and chances are they mostly do) but when they're awake, they want food and stimulation. Playing with your cat will help them not only feel better, but will help make them feel more socialized. When it's time for bed, create a routine for your cat as well. Start by brushing or spending some quiet time with your cat. This should help calm them and help them fall asleep.
Once asleep, don't give in to your cat's attempts for attention. We've all been there when they start walking over your head and licking your face because they want more food, but giving in only reinforces their bad behavior. Eventually a cat's persistence will stop, and if you continue to ignore their late-night badgering, they'll develop their own schedule that doesn't include waking you up all the time.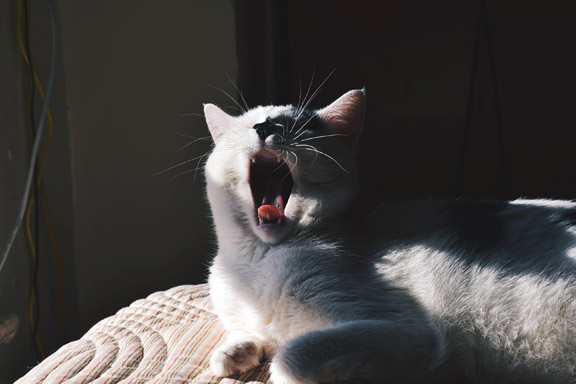 Heads Against the Wall: It May Look Silly, But It Could Indicate A Problem
It's known as "pressing;" the strange, yet unquestionably cute behavior of dogs or cats standing with their heads planted face-first against a wall or other object for no apparent reason. Are they putting themselves in timeout? Are they ashamed of something they've done? This behavior could indicate a medical problem and should be checked by your veterinarian.
What It May Mean
Head pressing is typically indicative of damage to the pet's nervous system. What can cause this damage? There are several possibilities.
In addition to poisoning, pressing behavior can also be a symptom of a brain tumor, head trauma, liver shunt, metabolic disorder, infection of the brain or spinal cord, or stroke.
It could also be an indicator of prosencephalon disease. More commonly referred to as the forebrain, the prosencephalon is the forward-most portion of the brain. With this disease, the forebrain and thalamus become damaged and pets may exhibit circling, changes in learned behavior, damaged reflexes, pacing, pressing, seizures and/or vision problems. Dogs and cats of any age or breed can be affected.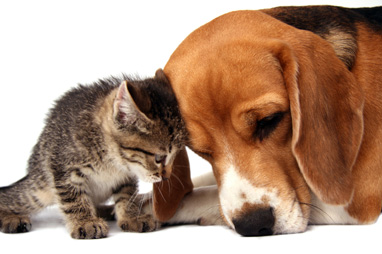 What To Do
A visit to your veterinarian will help get to the bottom of the behavior. Providing your veterinarian with a thorough history of your dog or cat's health, when the head pressing first began and possible incidents that might have preceded it, will help him or her in diagnosing the cause.
Diagnostic tests, such as blood and urine testing, X-rays and a complete physical examination, may determine the cause of the head pressing. Advanced tests, such as MRI or CT scan, may be required if the initial results come back negative.
Not To Be Confused With Normal Behavior
It's normal for healthy pets to rub or butt their heads against objects, animals and people. Known as bunting, this is a form of territorial scent-marking. Pressing, on the other hand, indicates a serious medical condition and is abnormal.
By itself, head pressing may not be dangerous to your pet - the concern lies in what it could be signaling. You know your pet better than anyone. If something seems off, call your veterinarian as soon as possible.
Is Sleeping With A Pet Beneficial Your Health?
A recent study by the Mayo Clinic's Center for Sleep Medicine in Arizona reported some people may benefit from sharing a bed with a pet. The study looked at 74 pet owners – 56 percent of whom allow their pet in the bedroom with them. Of those, 41 percent believe sleeping with their pet is beneficial to sleep.
A good night's sleep does more than leave you feeling well-rested. It plays an important role in overall immune function, metabolism, memory, learning and more.
Strengthen Your Bond by Sharing Your Bed
Dr. Ken Tudor, former Veterinary Medical Officer for the United States Department of Agriculture, believes the benefits of sharing a bed with a dog stem from our evolutionary partnership. Domestication of the wild dog undoubtedly included the animals joining "man at the camp fire and later snuggling closely with him for mutual warmth."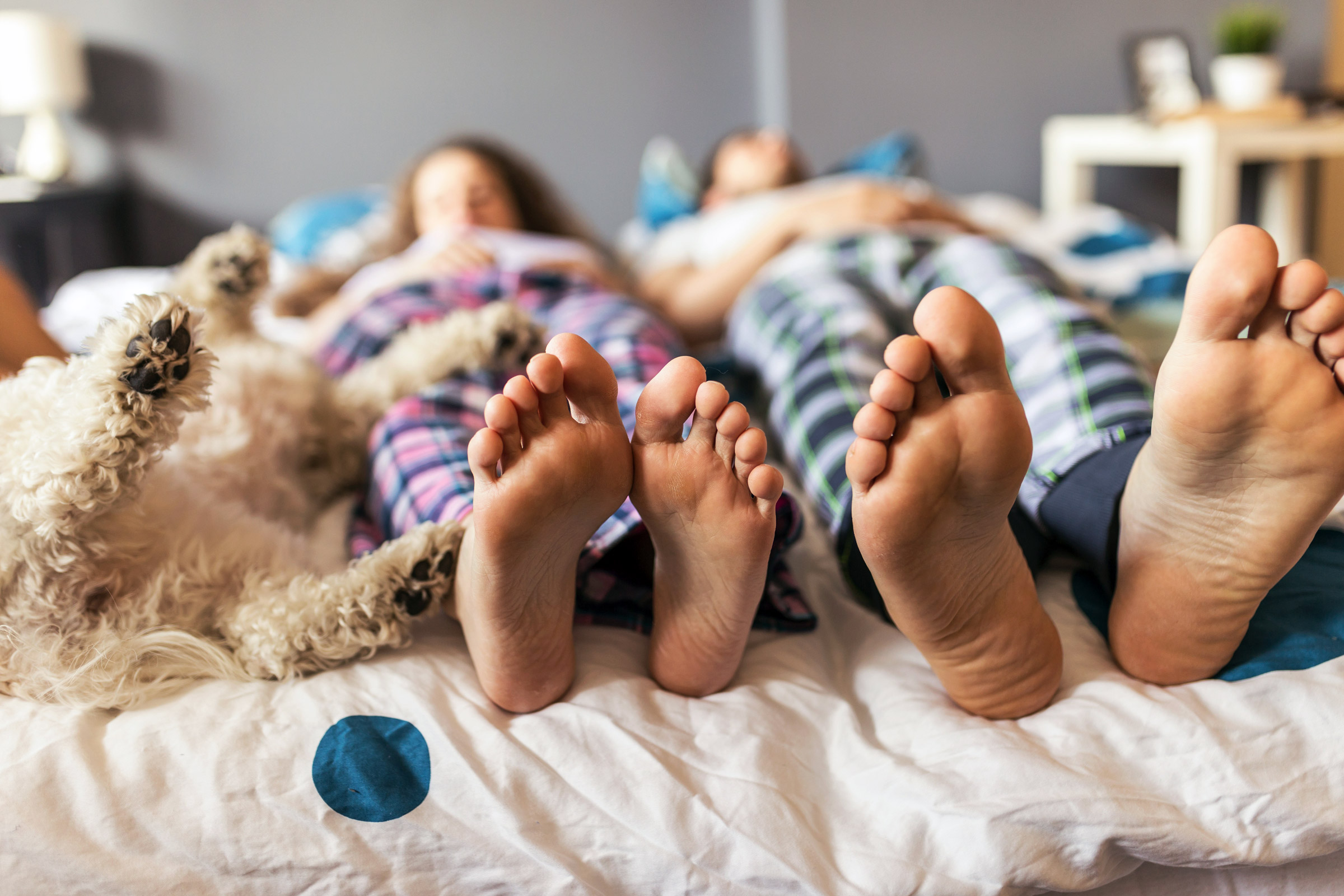 In addition to reporting better sleep, respondents also noted a greater sense of security. This could be from the simple reassuring presence of another warm body or because pets often double as protectors who will alert their owners to intruders. Dr. Tudor emphasizes that being in consistent proximity with an animal fosters bonding and a more intimate relationship.
"Some people find that sleeping with their animal actually helps them feel cozy," said Dr. Lois Krahn, a sleep medicine specialist at the center. "One woman said her two small dogs warmed her bed. Another person felt her cat who was touching her during the night was comforting and soothing."
Results May Vary
Although the majority of pet-owning respondents reported sharing their bedroom with their pet, another 20 percent admitted the bed-hogging, snoring or moving around can be disruptive.
Interrupted sleep has been linked to preventing slow-wave sleep and a worse mood than non-interrupted sleepers upon waking. The Mayo Clinic advises patients who have sleep concerns to inquire about whether or not their sleep environment should be shared with a companion animal.
"I think from a sleep standpoint, multiple pets increase the risk of bad sleep," said Krahn.