Tuesday, March 19th, 2013
Dr. Jay Gottlieb, Dr. Gil Caren, and the staff of Island Trees Veterinary Hospital  are pleased to announce their hospital blog. This fun and fact-filled blog is updated regularly and includes up-to-date information about your pet's health care. Also included in the blog are fun, pet-related news stories that we want to share with you and photos and information about our hospital and staff members.
We invite you to check our blog often.
Thank you for visiting.
– The Island Trees Veterinary Hospital Team



Monday, May 11th, 2015
Now that David Letterman is gone, we're putting together our own top 10 lists. Since you love and have such a good time with your dog, it's fun to make light of his / her personality.
This is how you know you have a dumb dog.
10) Lengthy pause after "Bow" while it tries to remember "Wow."
9) Buries tail, wags bones.
8) When you give him Alpo, he just eats the meat by-products.
7) Despite the overwhelming evidence, still smokes two packs a day.
6) Showed up at the Whoopi Goldberg roast in cat face.
5) Has suffered over two dozen concussions from toilet seat falling on his head.
4) Thinks "Snausages" is a real word.
3) Voted for Fred Grandy, "The Love Boat's" "Gopher", because he really thought he'd be a good congressman.
2) Spends hours staring at kitchen cabinet, waiting for tiny horse-and-carriage to come out.
1) Constantly chasing people named "Katz."
Monday, May 11th, 2015
Dogs occupy a larger place than ever in our society in recent years. They're not just pets – they're real members of our families. People have come to cherish a wide variety of these four-legged friends. Depending on your personality, physical environment and time commitment, one of the breeds listed below would most likely make a great pet.
If you would like to discuss the ideal dog for you or your family, please stop by Island Trees Veterinary Hospital and speak to one of our staff members. We're here to help with these tough decisions.
According to the American Kennel Club, the 10 breeds below topped the ranks in 2014.
1. Labrador Retriever – Labrador Retrievers, or simply Labradors or Labs, are frequently described as devoted, obedient, outgoing, gentle, agile and intelligent. Great with children and eager to please, it's no surprise these dogs came out on top for the 24th consecutive year.
2. German Shepherd Dog – German Shepherds are working dogs, originally bred for herding sheep. They are known for being strong, intelligent, obedient, loyal and easy to train. While they are a common choice for law enforcement and the military, they also make great family pets.
3. Golden Retriever – Golden Retrievers are the loyal, strong and sometimes overly enthusiastic good buddies of the dog world. These energetic, affectionate canines shower their families with endless nuzzles, kisses and tail wags, and make very emotionally rewarding pets.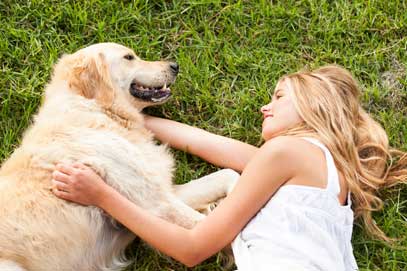 4. Bulldog – This breed is gentle, kid-friendly, affectionate, and stubborn. Bulldogs are not the energetic equals of Golden Retrievers or Labs. Instead, they favor brief walks and long periods of rest – most preferably with their heads on a beloved human's lap – between meals.
5. Beagle – Beagles are members of the hound group and possess a great sense of smell and tracking instinct. Happy, outgoing, loving but also inquisitive and determined, these small and hardy dogs make great family pets.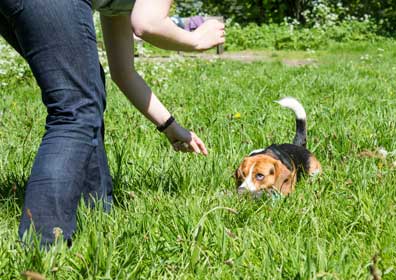 6. Yorkshire Terrier – Yorkshire Terriers are the most popular toy breed in the US. Attention seeking, intelligent and independent, with a propensity for yapping, they are great for apartment dwellers and families with older children.
7. Poodle – Poodles have an unmistakably distinct appearance that makes them stand out from other dogs. They're elegant, active and very intelligent. There are three types of poodles, Standard, Miniature and Toy, and all are considered to be affectionate family pets.
8. Boxer – Boxers are medium-sized dogs that are happy, loyal, brave, high-spirited, playful, intelligent and energetic. This breed is an excellent watchdog, is a great family pet and benefits greatly from dominant owner and training starting at a young age.
9. French Bulldog – French Bulldogs have a distinct look, too – but they're a little more funny looking than other dogs. They're adorable, too, and it's no mystery why these affectionate small dogs, with their easy-going and playful natures, have won people's hearts. French Bulldogs enjoy lavishing love on their human companions and generally get along well with everyone, including children.
10. Rottweiler – Often used as search and rescue dogs, guide dogs for the blind, and guard dogs or police dogs, Rottweilers also make great companion pets. Known for being exceptionally intelligent and strong, they are also devoted, good-natured, obedient and fearless. Properly bred and socialized Rottweilers are playful, gentle, and loving to their families.
When deciding to welcome a canine companion into your home, it's important to consider where you live, your family, your existing pets and your lifestyle. Choosing a pet with the temperament, energy level and size that complement each of these factors is a vital part of making sure your life together is a long and happy one!
Friday, April 10th, 2015
Five dogs have died and over one thousand dogs have been sickened by a severe Canine Influenza outbreak in the Chicago area. The illness is highly contagious between dogs, and symptoms include loud coughs, fever, lethargy, and loss of appetite. Canine Influenza can lead to pneumonia, which can be fatal in dogs.
If you and your dog spend time in the Chicago area, we recommend keeping your dog away from other dogs. For the best protection, have your dog vaccinated against Canine Influenza. The virus is found everywhere and can infect your dog at any time.
Please contact Island Trees Veterinary Hospital for more information about Canine Influenza and to schedule a vaccination.
Monday, March 30th, 2015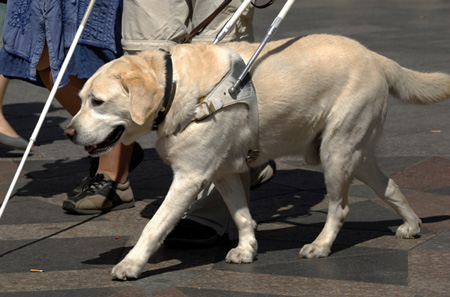 A blind man and his guide dog escaped serious injury after the man fainted on a New York City subway platform and fell onto the tracks. The operator of the train was able to slow the train and reduce the impact on the man and his dog while bystanders called for help. The man, Cecil Williams, said that the presence of his guide dog, Orlando, saved his life. "He tried to hold me up," Williams said, adding that the dog barked frantically and tried to stop Williams from falling, but was unable to do so when Williams fainted.
Williams originally would have had to surrender the dog to a shelter when the dog turned 11 on January 5th, as his insurance will not cover the cost of a non-working dog. However, after an outpouring of support from New Yorkers, Williams will now be able to keep Orlando. "He's my best buddy," Williams said. "He takes me everywhere I need to go. He's a very gentle gentleman."
Monday, March 30th, 2015
For anyone traveling outside the United States with pets:
Call the appropriate embassy in Washington to confirm the entry requirements for your pet(s). Some embassies provide forms printed in English and in the host language for your veterinarian to complete. Some countries do not permit importation, or have long quarantine requirements.
Check the requirements to see how close to departure the required veterinary examination, vaccinations and tests must be completed.
Arrange with your veterinarian for required vaccinations and certificates.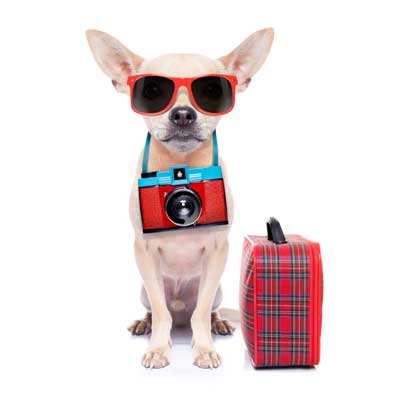 Certification requirements vary from country to country. Some countries simply require the examining veterinarian to be licensed in the state of origin. In this case, the veterinarian's examination statement does not need USDA certification. Some countries accept a standard letterhead health certificate and rabies certificate issued by a licensed veterinarian and endorsed by the USDA. Other countries require that your pet be examined by a federally accredited veterinarian and that a United States Interstate and International Certificate for Health Examination for Small Animals (AHPIS Form 7001) be issued by the examining veterinarian and endorsed by the USDA. (Since August 1994, only a federally accredited veterinarian can sign this form.) Call the embassy to determine the exact requirements before making an appointment with a veterinarian. Also, check the airline, as there have been cases where a country does not require a certification but the airline does.
The timetable for obtaining examination statements and certifications can be very tight. Plan well in advance to be sure all paperwork is completed in time for your departure date. You may send your paperwork by mail or courier, along with a rabies certificate, the appropriate fee for service and a self-addressed stamped envelope or a pre-paid Federal Express envelope (if you are short of time) for return to you. Make sure that the veterinarian's name is legible and include a contact person with a daytime telephone number.
If you are planning to travel outside the US with your pet, you need to contact your local Veterinary Services office.
If you have a relatively uncomplicated plane flight, taking your pet along with you might be the best solution. Even if your pet is on the same flight as you, the appropriate documentation is still necessary. Ask your travel agent or call the airlines for price information.
If you are planning to ship your pet, reserve air space as early as possible. Be sure to schedule your pet's arrival on a weekday and not on a weekend, as it is usually necessary for animals to be cleared by a veterinarian or health inspector upon arrival.
Provide a sturdy, leak-proof crate (lined with absorbent material such as newspaper) that is large enough for the animal to stand, lie down, or turn around, but not so large that the animal can be battered around in rough weather. Most pet stores sell shipping crates in various sizes.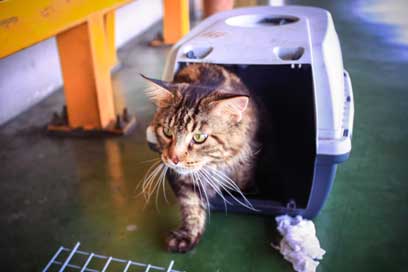 SHIPPING OF PETS CHECKLIST
Your pet should become acclimated to the crate by having practice sessions. Be sure the pet has a comfortable pad to lie on and a few familiar toys. A leash should also be included inside the crate.
Even if your pet is microchipped, put identification tags that include an emergency phone number on your pet's collar.
Print your name and destination address clearly on the shipping crate. Include your pet's name so that attendants can talk to him. If your pet has special needs or habits (bites or growls at strangers) include that information. You might want to list this information in other languages as well. In case your pet gets lost or needs to be identified, you should carry a photo with you.
Feed your pet a very light meal about six hours before shipping. Give water up until two hours before departure. A water dish attached to the the crate should be provided. The water dish should be conveniently located so an attendant can provide water at stopovers without being bitten. Send dry food along if the trip is long. If you send canned food, fasten an opener and dish to the crate in a cloth or mesh bag with feeding instructions clearly marked on the crate.
Do not tranquilize your pet without your veterinarian's approval. A tranquilized pet can injure himself more easily than a non-tranquilized animal.
Exercise your pet just before shipping.
If your pet is traveling with you, make sure you have a decent amount of time between connecting flights. This way, it's more likely that he is going to be transfered to your connecting flight.
If there is a delay, the airline may kennel the pets. Some airlines have kennel facilities while other do not. State on your airway bill that your animal is to be taken to the animal port if there is a delay or stopover.
Arrange to have your pet picked up immediately upon arrival. Airline facilities for pets may be limited or nonexistent.
Monday, March 30th, 2015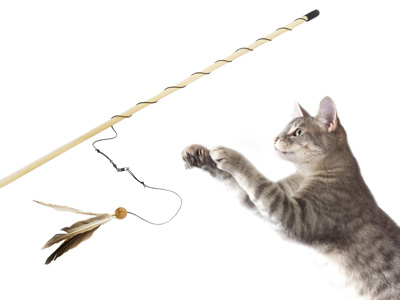 Play and exercise are an important part of pet health. For cats, toys are a great way to stimulate play, combat obesity, discourage unwanted behavior, and provide an outlet for unused energy and predatory instincts. Below are ten highly rated toys that at under $25—most under $10—will help keep your cat happy and healthy and won't break the bank.
Da Bird Feather Teaser, online from $7.49. This teaser simulates the motion of a bird at your control. A flick of the wrist and the brightly colored feathers dance and spin enticing your cat to play. Encourages instinctual behaviors and exercise to keep your cat healthy and alert.
Mylar Crinkle Ball Cat Toys, online from $1.49, an inexpensive, sure-fire hit that your cat will love to bat and bobble around the house.
Yeowww! Catnip Banana, online price from $4.13. These popular stuffed bananas are made in the USA and filled with organically grown catnip.
Fat Cat Kitty Hoots Big Mama's Scratchy Box, online from $8.37. An effective, economical way to satisfy your cat's desire to scratch and save your furniture. Comes with a supply of "Zoom Around the Room Organic Catnip." The box is 100 percent recyclable. May need to be replaced every 1-2 months, depending on usage.
PetSafe SlimCat, online from $4.69. PetSafe Slimcat is an interactive feeding ball that works by distributing your cat's food into smaller meals that can be fed at regular intervals. Slimcat can also satiate your cat's craving to hunt which results in a more peaceful pet.

Petlinks System Dream Curl Curvy Two-Surface Scratcher online from $20.99. Your cat will love the shapely contours of the Dream Curl and its enticing variety of scratching surfaces and angles. Made from Earth-friendly sisal and contains organic catnip. The scratcher core is made from recycled material.
Tipsy Nip Ball, online from $5. This organic catnip infused non-toxic wooden ball is sure to be a hit with your cat. When not in use, store in the accompanying bottle of catnip to keep the ball catnipalicious.

Cat Amazing Interactive Puzzle for Cats, from $14.95. This interactive puzzle game has three levels of difficulty to stimulate and challenge cats, and those who complete the puzzle are rewarded with a treat. It is the perfect test of your cat's skill and ingenuity and is an instant hit wherever people and cats are gathered. Made from 30 percent recycled cardboard and is 100 percent recyclable, and printed with certified metal-free inks.
The Cat Dancer, available online from $1.79. The Cat Dancer is the original interactive cat toy. Spring steel wire and rolled cardboard create an irresistible lure for cats and great fun for cat lovers. According to their website, The Cat Dancer has been "home-tested by over 8 million cats."
Teddy for Kitty, $5.95, available online through EcoChoices Natural Living Store, is a teddy bear made from rugged corduroy and a colorful patch and filled with organically grown catnip. Made in the USA.
Don't forget: Homemade cat toys can be just as entertaining as those that are store-bought. Cats love batting around a crumpled ball of paper, hiding in a large paper bag or cardboard box, or attacking an object, such as a feather, bell, or stocking stuffed with catnip, attached to a string or pole. Best of all, you probably have most or all of these items in your home already.
Friday, January 23rd, 2015
It's official: winter and all of its trappings have arrived. That means snow, ice, and freezing cold temperatures.
Just because your pet is covered in fur doesn't mean they're comfortable in the cold. In fact, prolonged exposure to extreme temperatures can be just as deadly for pets as it can be for humans. With that in mind, here are a few tips to help keep your pets warm and toasty this winter.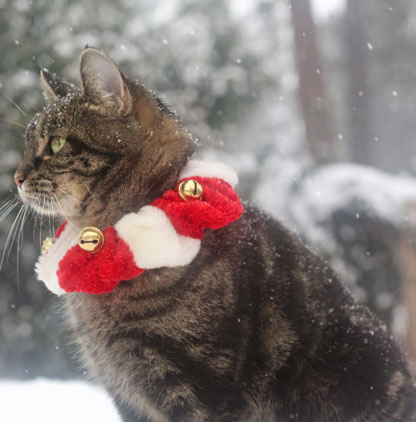 • Just like a hot car in the summer, a cold car in the winter can be deadly. Never leave your pet alone in a cold car.
• Save a warm spot off the floor and away from drafts for your pet to sleep at night. For kittens and older cats, try a heated pad or bed.
• Be sure to keep a close eye on small, short-haired, very young, or very old dogs when they're out in the cold. When taking them on a walk, keep them warm with a sweater or a doggy coat. Long haired dogs or breeds that tolerate the cold may be better equipped for snow, but they should also still be supervised.
• Adjust your animal's food intake based on the amount of exercise he or she is getting in the winter. (You might consider adjusting your own, too.)
• Matted fur won't protect your dog or cat from the cold, so keep their coats well groomed. After taking your dog for a walk, wipe down their feet, legs, and stomach area to prevent ingestion of salt or dangerous chemicals. And always use a pet-friendly ice melt product for your own home.
• Never let dogs off leash on snow or ice.
• Antifreeze has a sweet taste that attracts animals, but is a deadly poison. Wipe up any antifreeze spills immediately, or better yet, use pet-safe antifrieeze.
• Outdoor cats often nap on or around car engines to keep warm. If there are outdoor cats in your neighborhood, honk the horn before starting your car to make sure any cats hiding next to your tires get out safely.
• If your dog is let out in your yard, make sure snow drifts near your fence haven't made it easy for your dog to escape.
• Keep water available for your dog while he's outside. Use a tip-resistant, ceramic or hard plastic water bowl rather than a metal bowl.
If you have questions about caring for your pet during the winter months, please call our hospital at 516-735-0090. Our veterinarians and knowledgeable technicians are available to help you and your pet at all times.
Island Trees Veterinary Hospital's Hicksville veterinary location is 451 New South Rd., in Hicksville, NY. We provide complete veterinary services for pets in Nassau County including the towns of Levittown, Hicksville, East Meadow, Plainview, Westbury, and Farmingdale. To set up an appointments, please call 516-735-0090.
Thursday, January 22nd, 2015
A 40-year old African penguin is returning home a southern Colorado zoo after undergoing treatment for skin cancer. Tess, who resides at the Pueblo Zoo, is the oldest penguin of her kind, according to officials at the zoo. She was treated for sarcoma at the Colorado State University veterinary hospital in early December. After two weeks of isolation, she was welcomed home to the zoo, where she was reunited with her mate, Mongo, and the rest of her friends in the habitat.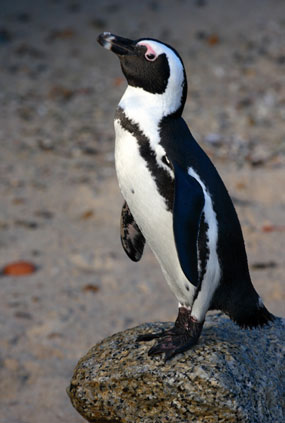 African penguins rarely live past 20 years, and experts at the Pueblo Zoo say that the breed has declined 90 percent in the last 100 years. "Some people would ask, 'why are you putting all of these resources into an individual animal?' But, if this individual animal can tell a story that helps globally with the African penguin, then it's all worth it," said Dr. Matthew Johnston, a veterinarian at Colorado State University. "If we can make people aware of these endangered species, with awareness comes action, and with action comes change. And, ultimately, we help."
Thursday, January 22nd, 2015
Study Says 57% of Cats and 52% of Dogs Are Obese
The Association for Pet Obesity Prevention has revealed that pet obesity rates has held steady in the past year, with 57.6% of cats and 52.6% of dogs recorded as overweight or obese, despite efforts by the Association to spread awareness of the dangers of pet obesity. Pet obesity, like obesity in humans, can lead to osteoarthritis, type 2 diabetes, heart disease, joint injury, cancer and decreased life expectancy.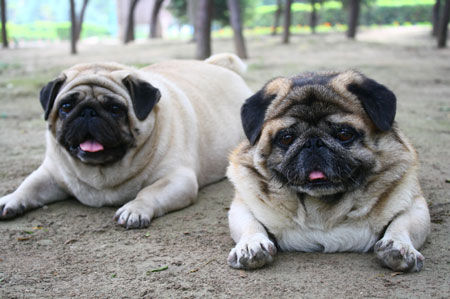 The Association for Pet Obesity Prevention also found most owners of overweight pets do not realize their pet is considered overweight. 93% of dog owners and 88% of cat owners believed their overweight pets were in the normal weight range. "There's an entire nation of pet owners who are loving their pets to death with too many calories and not enough exercise," said Joe Bartges, DVM, a veterinary nutritionist and internist. "They are in the dark that their pets are overweight and that a host of diseases can arise as a result."
Wednesday, December 10th, 2014
Holiday season adornments are attractive to all creatures. The ornaments, foods, gifts, wrappings, ribbons, lights and plants are all curiosities for pets. Pets investigate new items by sniffing, tossing, chasing, and finally by tasting. A few precautions are necessary to avoid the holiday crowds at the veterinary hospital.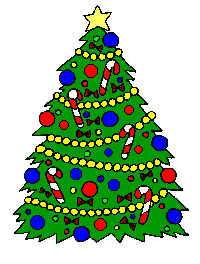 The most common problems this time of year are stomach or intestinal disturbances caused by pets eating the holiday feast or other novelties. Scraps from the table can cause gastrointestinal upset and even predispose pets to life-threatening pancreatitis. Bones can get stuck in the mouth or perforate the intestines and should be avoided. Chocolate is poisonous to cats, dogs, and birds. Plastic wrap and aluminum foil (coated with good-tasting juices) are enticing but can cause intestinal damage (and even blockage) if eaten by the pet.
Other sweet treats, like gum and hard candies, can also make your pet ill. Sugar-free candies and gum are made with xylitol, a sugar substitute that can cause a drop in blood sugar, depression, loss of coordination and seizures in your pet. Xylitol is also linked to liver failure in dogs. Be sure to keep all candies, chocolate and other sweets out of your pet's reach. If you believe your pet may have ingested chocolate or candy, call your veterinarian immediately.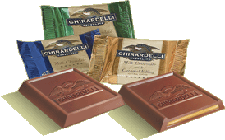 Chocolate with Wrappers
Be sure to properly dispose of leftovers and wrappers. Feed pets their usual diet. Treats formulated similarly to the pet's regular diet are generally healthy and safe. Also keep in mind (while cooking) that pets may not know about hot stoves or to stay out from underfoot. Keep pets away from the stove so they don't get burned or get hot foods spilled on them.
Several decorative plants are poisonous. Mistletoe and holly can cause stomach upset with vomiting and diarrhea. The berries of these plants are attractive, easily swallowed, and potentially fatal if consumed. Poinsettias, like the leaves of most any plant, can also cause stomach upset. Use artificial mistletoe and holly; keep other plants out of your pet's reach.


Mistletoe and Holly
Make sure Christmas trees are secured so that pets cannot pull them over. Omit preservatives from the tree-stand water and cover the water so pets don't drink it. Don't spray snow on the tree unless it is labeled for pet consumption. Angel hair is spun glass and is irritating to both the inside and outside of your pet. Even glass ornaments and ornament hooks have been chewed and swallowed. These objects can cause problems from stomach upset to damaged intestines. Low-hanging ornaments are a real temptation, as are tinsel and electric lights. Decorative lights and electrical wiring can cause shock or burns when chewed, soremember to unplug holiday lights when pets are unattended.
Holidays have lots of activity going on. Be sure doors are not left open as guests come and go. Indoor pets inadvertently left outside could be injured by frostbite, cars, or other animals. Ice-melting chemicals and salt on sidewalks and roads can severely burn foot pads and should be washed off right away. Also, watch that guests don't leave interesting objects, such as chocolate, ribbons, stocking stuffers, or other illicit treats, within your pet's reach.
Holidays can also be as stressful for your pet as they are for you. Large gatherings of unfamiliar people may cause your dog or cat unnecessary stress and worry. If your pet does not interact well with strangers, keeping him or her in a separate room during the festivities may help keep your pet relaxed and worry-free.
Don't leave food items under the tree with an unsupervised pet; the wrapping, ribbon and enclosed gift are probably not compatible with your pet's digestive system. Ask Santa to put gifts out of your pet's reach so your pet won't beat you to them on Christmas morning.
When choosing a gift for your pet, consider the pet as an individual. Cats enjoy lightweight toys they can bat around, catnip toys, scratching posts, and kitty perches. Dogs like balls, chew toys, and things they can carry around. However, beware of toys with parts, such as bells, buttons, string, yarn, or squeaky parts, that can be detached and swallowed. Watch how your pet handles a new toy until you are sure it is safe. Some dogs treat a stuffed toy like a friend and carry it around and sleep with it. Others will tear them up and eat the stuffing and get into trouble. Also, if there is more than one pet in the household, consider all the pets before buying for any one of them. A one-inch diameter toy for a cat is fine, but a puppy in the household may swallow it and possibly require surgery to remove it.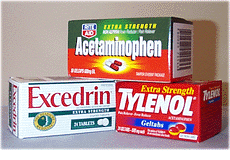 If your pet does get sick, call Island Trees Veterinary Hospital and consult with Drs. Jay Gottlieb, Gil Caren or Brad Gottlieb before giving any medications. Many of the over-the-counter drugs, such as acetaminophen – Tylenol(r) and Excedrin(r) and ibuprofin – Advil(r), Motrin(r), are toxic for animals even though they are safe for us. Don't wait to see if your pet gets better. If your pet is acting sick, call Island Trees Veterinary Hospital immediately.
If you have questions or need information about your pet and the holidays, please call the hospital. Island Trees Veterinary Hospital is located at 451 New South Rd., Hicksville, NY. We provide complete veterinary services for pets in Nassau County.