Tuesday, March 19th, 2013
Dr. Jay Gottlieb, Dr. Gil Caren, and the staff of Island Trees Veterinary Hospital  are pleased to announce their hospital blog. This fun and fact-filled blog is updated regularly and includes up-to-date information about your pet's health care. Also included in the blog are fun, pet-related news stories that we want to share with you and photos and information about our hospital and staff members.
We invite you to check our blog often.
Thank you for visiting.
– The Island Trees Veterinary Hospital Team



Friday, January 23rd, 2015
It's official: winter and all of its trappings have arrived. That means snow, ice, and freezing cold temperatures.
Just because your pet is covered in fur doesn't mean they're comfortable in the cold. In fact, prolonged exposure to extreme temperatures can be just as deadly for pets as it can be for humans. With that in mind, here are a few tips to help keep your pets warm and toasty this winter.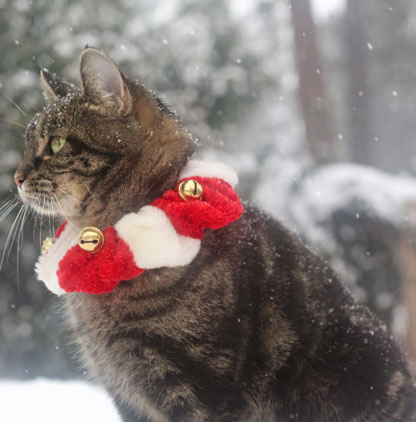 • Just like a hot car in the summer, a cold car in the winter can be deadly. Never leave your pet alone in a cold car.
• Save a warm spot off the floor and away from drafts for your pet to sleep at night. For kittens and older cats, try a heated pad or bed.
• Be sure to keep a close eye on small, short-haired, very young, or very old dogs when they're out in the cold. When taking them on a walk, keep them warm with a sweater or a doggy coat. Long haired dogs or breeds that tolerate the cold may be better equipped for snow, but they should also still be supervised.
• Adjust your animal's food intake based on the amount of exercise he or she is getting in the winter. (You might consider adjusting your own, too.)
• Matted fur won't protect your dog or cat from the cold, so keep their coats well groomed. After taking your dog for a walk, wipe down their feet, legs, and stomach area to prevent ingestion of salt or dangerous chemicals. And always use a pet-friendly ice melt product for your own home.
• Never let dogs off leash on snow or ice.
• Antifreeze has a sweet taste that attracts animals, but is a deadly poison. Wipe up any antifreeze spills immediately, or better yet, use pet-safe antifrieeze.
• Outdoor cats often nap on or around car engines to keep warm. If there are outdoor cats in your neighborhood, honk the horn before starting your car to make sure any cats hiding next to your tires get out safely.
• If your dog is let out in your yard, make sure snow drifts near your fence haven't made it easy for your dog to escape.
• Keep water available for your dog while he's outside. Use a tip-resistant, ceramic or hard plastic water bowl rather than a metal bowl.
If you have questions about caring for your pet during the winter months, please call our hospital at 516-735-0090. Our veterinarians and knowledgeable technicians are available to help you and your pet at all times.
Island Trees Veterinary Hospital's Hicksville veterinary location is 451 New South Rd., in Hicksville, NY. We provide complete veterinary services for pets in Nassau County including the towns of Levittown, Hicksville, East Meadow, Plainview, Westbury, and Farmingdale. To set up an appointments, please call 516-735-0090.
Thursday, January 22nd, 2015
A 40-year old African penguin is returning home a southern Colorado zoo after undergoing treatment for skin cancer. Tess, who resides at the Pueblo Zoo, is the oldest penguin of her kind, according to officials at the zoo. She was treated for sarcoma at the Colorado State University veterinary hospital in early December. After two weeks of isolation, she was welcomed home to the zoo, where she was reunited with her mate, Mongo, and the rest of her friends in the habitat.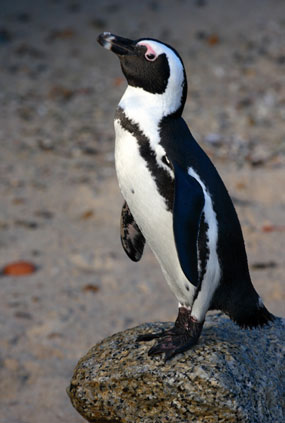 African penguins rarely live past 20 years, and experts at the Pueblo Zoo say that the breed has declined 90 percent in the last 100 years. "Some people would ask, 'why are you putting all of these resources into an individual animal?' But, if this individual animal can tell a story that helps globally with the African penguin, then it's all worth it," said Dr. Matthew Johnston, a veterinarian at Colorado State University. "If we can make people aware of these endangered species, with awareness comes action, and with action comes change. And, ultimately, we help."
Thursday, January 22nd, 2015
Study Says 57% of Cats and 52% of Dogs Are Obese
The Association for Pet Obesity Prevention has revealed that pet obesity rates has held steady in the past year, with 57.6% of cats and 52.6% of dogs recorded as overweight or obese, despite efforts by the Association to spread awareness of the dangers of pet obesity. Pet obesity, like obesity in humans, can lead to osteoarthritis, type 2 diabetes, heart disease, joint injury, cancer and decreased life expectancy.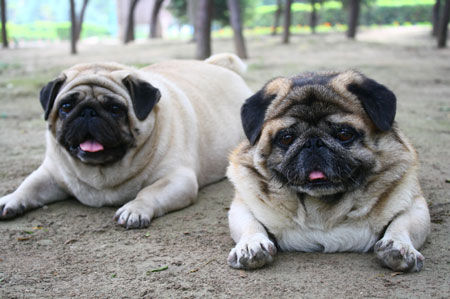 The Association for Pet Obesity Prevention also found most owners of overweight pets do not realize their pet is considered overweight. 93% of dog owners and 88% of cat owners believed their overweight pets were in the normal weight range. "There's an entire nation of pet owners who are loving their pets to death with too many calories and not enough exercise," said Joe Bartges, DVM, a veterinary nutritionist and internist. "They are in the dark that their pets are overweight and that a host of diseases can arise as a result."
Wednesday, December 10th, 2014
Holiday season adornments are attractive to all creatures. The ornaments, foods, gifts, wrappings, ribbons, lights and plants are all curiosities for pets. Pets investigate new items by sniffing, tossing, chasing, and finally by tasting. A few precautions are necessary to avoid the holiday crowds at the veterinary hospital.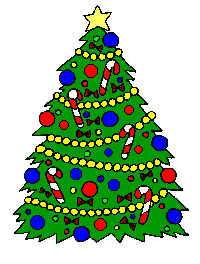 The most common problems this time of year are stomach or intestinal disturbances caused by pets eating the holiday feast or other novelties. Scraps from the table can cause gastrointestinal upset and even predispose pets to life-threatening pancreatitis. Bones can get stuck in the mouth or perforate the intestines and should be avoided. Chocolate is poisonous to cats, dogs, and birds. Plastic wrap and aluminum foil (coated with good-tasting juices) are enticing but can cause intestinal damage (and even blockage) if eaten by the pet.
Other sweet treats, like gum and hard candies, can also make your pet ill. Sugar-free candies and gum are made with xylitol, a sugar substitute that can cause a drop in blood sugar, depression, loss of coordination and seizures in your pet. Xylitol is also linked to liver failure in dogs. Be sure to keep all candies, chocolate and other sweets out of your pet's reach. If you believe your pet may have ingested chocolate or candy, call your veterinarian immediately.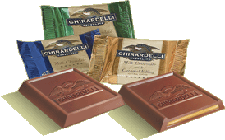 Chocolate with Wrappers
Be sure to properly dispose of leftovers and wrappers. Feed pets their usual diet. Treats formulated similarly to the pet's regular diet are generally healthy and safe. Also keep in mind (while cooking) that pets may not know about hot stoves or to stay out from underfoot. Keep pets away from the stove so they don't get burned or get hot foods spilled on them.
Several decorative plants are poisonous. Mistletoe and holly can cause stomach upset with vomiting and diarrhea. The berries of these plants are attractive, easily swallowed, and potentially fatal if consumed. Poinsettias, like the leaves of most any plant, can also cause stomach upset. Use artificial mistletoe and holly; keep other plants out of your pet's reach.


Mistletoe and Holly
Make sure Christmas trees are secured so that pets cannot pull them over. Omit preservatives from the tree-stand water and cover the water so pets don't drink it. Don't spray snow on the tree unless it is labeled for pet consumption. Angel hair is spun glass and is irritating to both the inside and outside of your pet. Even glass ornaments and ornament hooks have been chewed and swallowed. These objects can cause problems from stomach upset to damaged intestines. Low-hanging ornaments are a real temptation, as are tinsel and electric lights. Decorative lights and electrical wiring can cause shock or burns when chewed, soremember to unplug holiday lights when pets are unattended.
Holidays have lots of activity going on. Be sure doors are not left open as guests come and go. Indoor pets inadvertently left outside could be injured by frostbite, cars, or other animals. Ice-melting chemicals and salt on sidewalks and roads can severely burn foot pads and should be washed off right away. Also, watch that guests don't leave interesting objects, such as chocolate, ribbons, stocking stuffers, or other illicit treats, within your pet's reach.
Holidays can also be as stressful for your pet as they are for you. Large gatherings of unfamiliar people may cause your dog or cat unnecessary stress and worry. If your pet does not interact well with strangers, keeping him or her in a separate room during the festivities may help keep your pet relaxed and worry-free.
Don't leave food items under the tree with an unsupervised pet; the wrapping, ribbon and enclosed gift are probably not compatible with your pet's digestive system. Ask Santa to put gifts out of your pet's reach so your pet won't beat you to them on Christmas morning.
When choosing a gift for your pet, consider the pet as an individual. Cats enjoy lightweight toys they can bat around, catnip toys, scratching posts, and kitty perches. Dogs like balls, chew toys, and things they can carry around. However, beware of toys with parts, such as bells, buttons, string, yarn, or squeaky parts, that can be detached and swallowed. Watch how your pet handles a new toy until you are sure it is safe. Some dogs treat a stuffed toy like a friend and carry it around and sleep with it. Others will tear them up and eat the stuffing and get into trouble. Also, if there is more than one pet in the household, consider all the pets before buying for any one of them. A one-inch diameter toy for a cat is fine, but a puppy in the household may swallow it and possibly require surgery to remove it.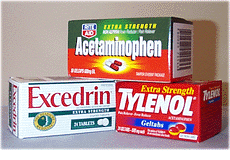 If your pet does get sick, call Island Trees Veterinary Hospital and consult with Drs. Jay Gottlieb, Gil Caren or Brad Gottlieb before giving any medications. Many of the over-the-counter drugs, such as acetaminophen – Tylenol(r) and Excedrin(r) and ibuprofin – Advil(r), Motrin(r), are toxic for animals even though they are safe for us. Don't wait to see if your pet gets better. If your pet is acting sick, call Island Trees Veterinary Hospital immediately.
If you have questions or need information about your pet and the holidays, please call the hospital. Island Trees Veterinary Hospital is located at 451 New South Rd., Hicksville, NY. We provide complete veterinary services for pets in Nassau County.
Wednesday, December 10th, 2014
Once again the American Kennel Club has released its list of the most popular dog breeds, and the winner won't be a surprise to anyone who spends time at the dog park. Labrador Retrievers, known for their friendly, outgoing and athletic temperament, topped the list. Close behind the top dogs are German Shepherds and Golden Retrievers.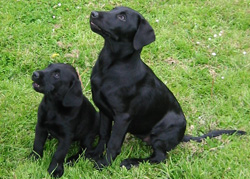 Here's the full list:
1) Labrador Retriever
2) German Shepherd
3) Golden Retriever
4) Beagle
5) Bulldog
6) Yorkshire Terrier
7) Boxer
8) Poodle
9) Rottweiler
10) Daschund
Wednesday, December 10th, 2014
A new company has built an app it says will change the way lost pets are located. The app, called Pawscout, uses a special tag that communicates with any cellphone using its mobile app in a 250-foot range. When "lost mode" is activated by the pet owner, the tag will send an alert to anyone with the app in the area. The app uses mesh networking to alert you to your pet's location.
Because of the way the device and app communicate with nearby phones, the app's success will depend on whether or not it is adopted by pet owners. The company plans to partner with the ASPCA to help spread the word.
Wednesday, December 10th, 2014
In many states, veterinarians are now required by law to report cases of animal abuse to authorities. Massachusetts has become the 15th state in the United States to impose this mandate. According to the law, failure to report cases of animal abuse to authorities could result in disciplinary action from the Massachusetts Board of Veterinary Medicine.
Dr. Martha Smith-Blackmore, vice president of animal welfare for the animal Rescue League of Boston, says that these laws have become more common because of an increased focus on animal abuse from law enforcement. "We are seeing an increasing number of local police departments taking the investigation of suspected animal cruelty more seriously because of the growing understanding of the co-occurrence of other crimes," she said.
Here's a full list of states where veterinarians are required to report animal abuse:
• Arizona
• California
• Colorado
• Illinois
• Kansas
• Massachusetts
• Maine
• Minnesota
• Missouri
• Nebraska
• North Dakota
• Oklahoma
• Oregon
• Wisconsin
• West Virginia
Monday, November 3rd, 2014
A new study published in the Food Control journal found that many brands of pet food do not contain the types of meat they claim to on the packaging. Researches from Chapman University in Orange, Calif. tested 52 pet-food products and found that 20 were mislabeled and 16 contained meat not indicated on the packaging.
The study found that pork was the most common meat found in the food but not the packaging. "Although regulations exist for pet foods, increase in international trade and globalization of the food supply have amplified the potential for food fraud to occur," wrote Rosalle Helberg, the co-author of the study. It was not clear to researchers whether or not the mislabeling was intentional, or at which points in production it occurred.
The veterinarians and staff at Island Trees Veterinary Hospital offer nutrition counseling and food recommendations for your pet. Our recommendations include information on food brands, proper serving size and other feeding strategies to maintain optimal body weight and nutritional health. We also help you wade through the claims made by pet food producers so you can make the most informed choice.
At Island Trees Veterinary Hospital, we offer nutritional counseling for every life stage and have a variety of diets and methods specific for your pet.
Call us today or stop by the hospital to discuss your pet's nutritional needs with one of our knowledgeable staff members.
Monday, November 3rd, 2014
It's not always easy finding pet-friendly apartments, and the Associated Press says it's getting harder as many apartment managers are now charging tenants extra rent. While extra security deposits for pets have been commonplace in many apartment complexes, the AP says that monthly rental payments anywhere from $10 to $50 are becoming increasingly common.
According to Apartments.com, 78% of renters surveyed paid a pet deposit this year. Of those, 29% also paid additional pet rent. Some apartment managers use the extra rent to pay for expenses related to the animals, but some simply charge more because they can. In an interview with the AP, apartment manager Stacy Leighty said she added the fee after her financial adviser recommended it.
Monday, November 3rd, 2014
Michelle Simmons thought her dog had passed away after Gracie, a Labradoodle, fell off a cliff during a hiking trip. But during a memorial service for the dog held on the cliff, a hiker heard a familiar sound – a barking dog, coming from the bottom of the cliff.
The hikers called the Oregon Humane Society, who assembled a 10 person volunteer rescue team. After hiking to the cliff, a member was lowered down and found Gracie, scratched and bruised, but otherwise in good health.
Drs. Jay Gottlieb, Gil Caren and Brad Gottlieb, veterinarians at Island Trees Veterinary Hospital, emphasize keeping your dog on a leash at all times. "Your dog's leash can save your pet's life."