Tuesday, March 19th, 2013
Dr. Jay Gottlieb, Dr. Gil Caren, and the staff of Island Trees Veterinary Hospital  are pleased to announce their hospital blog. This fun and fact-filled blog is updated regularly and includes up-to-date information about your pet's health care. Also included in the blog are fun, pet-related news stories that we want to share with you and photos and information about our hospital and staff members.
We invite you to check our blog often.
Thank you for visiting.
– The Island Trees Veterinary Hospital Team



Monday, November 3rd, 2014
A new study published in the Food Control journal found that many brands of pet food do not contain the types of meat they claim to on the packaging. Researches from Chapman University in Orange, Calif. tested 52 pet-food products and found that 20 were mislabeled and 16 contained meat not indicated on the packaging.
The study found that pork was the most common meat found in the food but not the packaging. "Although regulations exist for pet foods, increase in international trade and globalization of the food supply have amplified the potential for food fraud to occur," wrote Rosalle Helberg, the co-author of the study. It was not clear to researchers whether or not the mislabeling was intentional, or at which points in production it occurred.
The veterinarians and staff at Island Trees Veterinary Hospital offer nutrition counseling and food recommendations for your pet. Our recommendations include information on food brands, proper serving size and other feeding strategies to maintain optimal body weight and nutritional health. We also help you wade through the claims made by pet food producers so you can make the most informed choice.
At Island Trees Veterinary Hospital, we offer nutritional counseling for every life stage and have a variety of diets and methods specific for your pet.
Call us today or stop by the hospital to discuss your pet's nutritional needs with one of our knowledgeable staff members.
Monday, November 3rd, 2014
It's not always easy finding pet-friendly apartments, and the Associated Press says it's getting harder as many apartment managers are now charging tenants extra rent. While extra security deposits for pets have been commonplace in many apartment complexes, the AP says that monthly rental payments anywhere from $10 to $50 are becoming increasingly common.
According to Apartments.com, 78% of renters surveyed paid a pet deposit this year. Of those, 29% also paid additional pet rent. Some apartment managers use the extra rent to pay for expenses related to the animals, but some simply charge more because they can. In an interview with the AP, apartment manager Stacy Leighty said she added the fee after her financial adviser recommended it.
Monday, November 3rd, 2014
Michelle Simmons thought her dog had passed away after Gracie, a Labradoodle, fell off a cliff during a hiking trip. But during a memorial service for the dog held on the cliff, a hiker heard a familiar sound – a barking dog, coming from the bottom of the cliff.
The hikers called the Oregon Humane Society, who assembled a 10 person volunteer rescue team. After hiking to the cliff, a member was lowered down and found Gracie, scratched and bruised, but otherwise in good health.
Drs. Jay Gottlieb, Gil Caren and Brad Gottlieb, veterinarians at Island Trees Veterinary Hospital, emphasize keeping your dog on a leash at all times. "Your dog's leash can save your pet's life."
Friday, October 3rd, 2014
The Oregon Supreme Court has ruled the animals can be treated as victims in legal cases, effectively affording animals the same protections humans have in abuse cases. The ruling stems from a 2009 court case in which the defendant was convicted of starving 20 horses and goats on his property. The defendant argued that because the law defines animals as property, he should not have been charged with separate counts of neglect for each animal. The judge disagreed, arguing that each animal was a separate victim.
The ruling is expected to result in longer sentences for those convicted of animal abuse. According to Lora Dunn, staff attorney for the Animal Legal Defense Fund in Portland, the ruling may also change how law enforcement responds to animal abuse calls, as it may eliminate the need for law enforcement to obtain a warrant in certain circumstances to investigate claims of neglect or abuse. "To acknowledge that animals are victims of crime, that's really common sense to us," said Dunn.
Friday, October 3rd, 2014
In an interview with the Associated Press, Dr. Nick Dodman, specialist and professor of animal behavior at Tufts University's Cummings School of Veterinary Medicine, recommended the following tips to help ease the transition between summer and the school year:
– Make departure time happy using toys and treats
– Create a place in the house where the dog feels safe
– Try starting the routine before school begins
– Do not indulge with baby talk or sympathy
– See a veterinarian if the dog's disposition doesn't improve
With a little advanced planning and a few tweaks to you and your dog's morning routine, you can keep your dog relaxed and content while his favorite playmate is gone for the day. Before you know it, your dog's "back-to-school blues" will be a thing of the past.
Friday, October 3rd, 2014
A veterinarian in Australia performed micro-surgery on a goldfish, removing a tumor that might have ended the fish's life. The goldfish, George, was unable to eat or swim with the tumor, and the veterinarian gave the owner the option to remove the tumor or put George to sleep. She chose to have the tumor removed.
The procedure involved putting the fish under general anesthetic. To accomplish this, George was placed in a water bucket heavily laced with the drug until he fell asleep. He was then placed in a second bucket laced with enough anesthetic to keep him asleep during the surgery. With the procedure complete, he was placed in a third bucket with oxygenized water.
George has fully recovered from the surgery. According to his veterinarian, he could live for another 20 years.
Thursday, September 11th, 2014
Veterinarians are warning pet owners to keep e-cigarettes away from their pets. The product, which has gained popularity in recent years and is marketed as a healthier alternative to traditional cigarettes, vaporizes liquid nicotine. The nicotine is often flavored, which may make it more attractive to dogs. It's also concentrated, which means that ingesting a small amount can cause major complications for your pet. The symptoms include vomiting, seizures, increased heart rate, and even death.
Pet owners should keep e-cigarettes out of reach from pets at all times. If your pet does ingest liquid nicotine, contact your veterinarian immediately and be prepared for an emergency visit. "Time is important," says Dr. Jay Gottlieb, veterinarian at Island Trees Veterinary Hospital in Hicksville, NY. "If an animal has ingested it and doesn't seek immediate attention, there is a potential for it to be fatal."
Friday, August 29th, 2014
As enrollment figures are starting to drop, many colleges are welcoming pets. Administrators at State University of New York at Canton have seen enrollments increase and emotional problems, often associated with students leaving home for the first time, decrease since allowing pets on campus.
A survey of 1,400 colleges lists allergies and irresponsible students as the two main reasons for not allowing pets. Other objections include mess, noise, disease, biting, roommate issues and pet abandonment.
Schools that allow pets solve these problems in a variety of ways, including special dorms for students with pets and extra security deposits and cleaning fees. Schools also require current veterinary records and waivers of liability.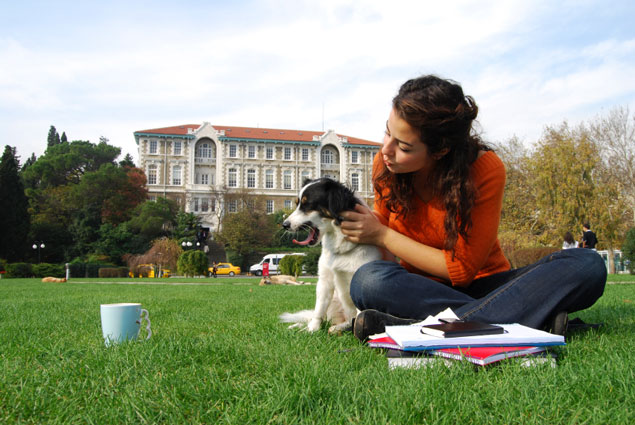 Here are a few schools that allow students to bring their pets to college:
MIT – Cambridge, MA
At Massachusetts Institute of Technology, students may keep cats in "cat-friendly" areas of certain dormitories. The cat-friendly areas have a Pet Chair who is responsible for approving and keeping track of pets in the dorm, and the pet owner must have approval from his or her roommates.
Stetson University – DeLand, FL
Stetson University allows students to bring fish, rabbits, hamsters, gerbils, guinea pigs, rats, mice, cats and dogs under 50 pounds to pet-friendly housing areas on campus. While several breeds of dogs including pit bulls and Rottweilers are prohibited, the college nonetheless won the Halifax Humane Society's 2011 Wingate Award for encouraging responsible pet ownership.
Eckerd College – St. Petersburg, FL
Students with pet ducks are in luck at Eckerd College. In addition to cats, small dogs and rabbits, the college allows owners of waterfowl to cohabitate with their feathered friend in its pet friendly dormitories. All pets on the Eckerd campus must be registered with Eckerd's pet council.
Stephens College – Columbia, MO
Stephens College is home to Searcy Hall, affectionately referred to by students as "Pet Central." In addition to welcoming cats and small dogs, Stephens offers an on-campus doggie daycare and opportunities to foster pets through a nearby no-kill animal rescue organization.
Caltech – Pasadena, CA
Students housed in Caltech's seven pet-friendly dorms are allowed to keep up to two indoor cats. Cats are provided with an ID tag by Caltech's housing office, and students must remove cats if neighbors complain.
SUNY Canton – Canton, NY
State University of New York's Canton campus has a designated pet wing where students are allowed to keep one cat or a small caged pet with the approval of the residence hall director. Pets in this area are allowed free reign in the hall, as the school's pet wing community tries to promote a family-like atmosphere for its residents.
These are just a few of the colleges that currently allow pets on campus. In fact, a recent survey of college admissions officers found that 38% of schools have housing where some pets are permitted, with 10% of those schools allowing dogs and 8% allowing cats. Students who dread leaving Fido behind every fall might not have to if they choose a pet-friendly college.
Schools require that all pets be current with their vaccinations. If you are planning to bring your pet to college, please call Island Trees Veterinary Hospital in Hicksville NY at 516-735-0090 to make sure that he or she is up-to-date. Each state has their own requirements. The veterinarians at Island Trees know the vaccinations that are needed for your pet.
Tuesday, August 19th, 2014
An outbreak of canine Parvovirus has killed 15 dogs in Massachusetts. The highly contagious virus is spread through vomit, feces or contaminated environment and is fatal if not treated early. Symptoms include vomiting, diarrhea and lethargy. Very often, young puppies die suddenly from heart failure. This sudden death occurs before any gastrointestinal symptoms of Parvovirus appear.
Bloody diarrhea is the most common symptom of Parvovirus infection. Pet owners should contact their veterinarian immediately if their dog exhibits these symptoms.
Parvovirus is preventable through vaccinations. Contact Island Trees Veterinary Hospital to make sure your pet is up to date on vaccinations.
Island Trees Veterinary Hospital's Hicksville veterinary location is 451 New South Rd., in Hicksville, NY. We provide complete veterinary services for pets in Nassau County including the towns of Levittown, Hicksville, East Meadow, Plainview, Westbury, and Farmingdale. To set up an appointments, please call 516-735-0090.
Tuesday, August 19th, 2014
A pet insurance company has launched a petition to encourage legislation prohibiting animals being left unattended in cars. Petplan Insurance posted the petition on We The People, the Obama administration's petition site. Like all petitions posted to the website, a White House staff member will review it and provide an official response if the petition reaches 100,000 signatures within 30 days.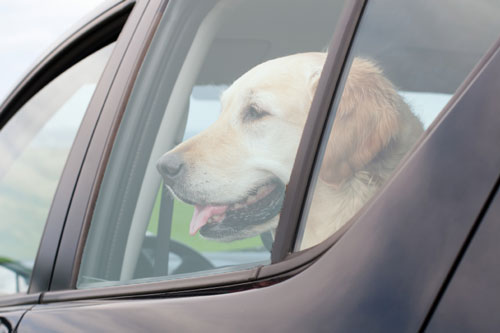 The initiative, called "Driven to Bark," aims to have all states adopt statutes that do not allow pet owners to leave animals unattended in cars. Currently, only 15 states have laws against the practice, which Petplan says causes "countless" deaths every year.